AKB48 27th Single Senbatsu Sousenkyo "Fan ga Erabu 64 Giseki"
Comment

1
Share
Ad blocker interference detected!
Wikia is a free-to-use site that makes money from advertising. We have a modified experience for viewers using ad blockers

Wikia is not accessible if you've made further modifications. Remove the custom ad blocker rule(s) and the page will load as expected.
AKB48 27th Single Senbatsu Sousenkyo "Fan ga Erabu 64 Giseki"

Title in Official Website
Vital Information
Participants
AKB48, SKE48, NMB48, HKT48
Date
June 6, 2012
Location
Nippon Budokan
The AKB48 27th Single Senbatsu Sousenkyo was held on June 6, 2012 at Nippon Budokan. Fans made their voices heard by voting for their favorite AKB48/SKE48/NMB48/HKT48 member at the fourth annual AKB48 members election. The top 16 members are featured in the groups 27th single. Meanwhile, the 17th to 32nd place members join the reformed Undergirls 1 unit for the B-side track, the 33rd to 48th place members join the new formed Undergirls 2 unit for the 2nd B-side track, and the 49th to 64th place members join the other new formed unit Undergirls 3 unit for the 3rd B-side track.
Selected Members
Votes
Eligible Members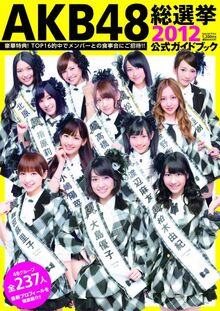 Voting Methods
Fans had nine methods of voting. Voting opened on May 22, 2012 at 10:00:00 JST and closed on June 5, 2012 at 14:59:59 JST.
"Manatsu no Sounds Good!" serial number
AKB48 Fanclub member
AKB48 Mobile member
AKB48 Official Smart Phone App Member
AKB48 LIVE!! ON DEMAND member
AKB48 OFFICIAL NET membership
SKE48 Mobile member
SKE48 LIVE!! ON DEMAND member
NMB48 Mobile member
Trivia
◄Previous
AKB48 22nd Single Senbatsu Sousenkyo
Next►
AKB48 32nd Single Senbatsu Sousenkyo