Home
Talk

2
1,511pages on
this wiki
Welcome to AKB48 Wiki
The wiki about AKB48 and Sister Groups anyone can edit

39,148 edits • 1,511 articles • 5,850 files uploaded • 8 active users since January, 2010
Random Members



Matsui Rena is member of SKE48's Team E and Kenin member of Nogizaka46. She use to be in SKE48's Team S. She is one of the more focal members of SKE48. She has participated in the main lineup of not only SKE48 but also AKB48 singles. She is considered by many fans as one half of the center duo of SKE48 along with Matsui Jurina
Recent ALL48 News
August 21, 2014 - Akimoto Yasushi and Watanabe Mayu take on the ice bucket challenge

01:52

ALSアイスバケツチャレンジ(秋元康) AKB48 公式

A video of Akimoto Yasushi taking on the ALS ice bucket challenge was uploaded onto AKB48's YouTube channel on August 20.
Akimoto, who was nominated by Gentosha Inc. president Kenjou Toru, boldly accepted the challenge. It took place after the group's 3-day concert at Tokyo Dome. Members Takahashi Minami and Sashihara Rino assisted in dumping a bucket of ice water over his head. "I support the ALS ice bucket challenge," he stated.
Shortly after, Watanabe Mayu volunteered to do the ice bucket challenge as a representative of the members. She called out, "Here I go!", and poured the ice water over herself.
At the end of the video, you can see Akimoto nominating Fuji TV president Kameyama Chihiro, Toyota Motors president Toyoda Akio, rakugo story teller Shofukutei Tsurube, and Japanese painter Senju Hiroshi.
August 16, 2014 - The new song of Team Surprise will be determined by fan votes

It was announced that the new song of AKB48 Team Surprise's will have the melody, content, dance, cover and costume determined by fan votes. Voting will start on August 23, 2014. There are 8 demo songs on the official website for fans to choose.
Melody A - Anjouyariya
Melody B - Boku wa Saishuuheiki
Melody C - Boost
Melody D - Happy Smile
Melody E - Hinoki Buta
Melody F - I don't mind
Melody G - M204
Melody H - SA - 501
August 15, 2014 - 3 Nogizaka46 members cast in movie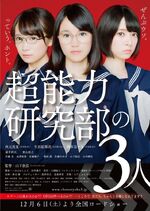 Nogizaka46 members Ikuta Erika, Akimoto Manatsu and Hashimoto Nanami have been cast in the a movie called Chounouryoku Kenkyubu no 3 Nin (

超能力研究部の3人

?

). It will open in theaters on December 6, 2014. The story is about 3 female high school students who become serious about psychic powers and UFOs. It is an adapted version of the manga "City Lights" by Hiroyuki Ohashi. The official website of the movie can be found here.
August 13, 2014 - AKB48 subunit DiVA will disband this year

It was announced on the radio program AKB48 "All Night Nippon" (ANN) that AKB48's sub-unit DiVA will disband in late 2014. On October 8, DiVA will release their fourth single, produced by Komuro Tetsuya. This will mark the first time since 2012 that they have had a single. The sub-unit will also release their first and last album. After a final live performance, the group will disband.
For their fourth single, the 'i' in the name will be capitalized, and the sub-unit will perform as DIVA. Former AKB48 member Masuda Yuka will return to the group for its final activities. Their single will have have four different versions. TYPE-C and TYPE-D's will have a remake of "WOW WAR TONIGHT ~時には起こせよムーヴメント" by H Jungle with t as a coupling song. The TYPE-D version will be a limited edition. For pre-order of the single, please visit this website.
On the radio show, Miyazawa Sae called former AKB48 member Oshima Yuko, who promised that she will write song lyrics for the unit.
August 11, 2014 - Cast members of the AKB49 musical updated
Latest ALL48 Concert and Events
Concerts

Events
Important Editing Notes
Regular Wikipedia entries do not contain links to song and album titles, but as this is a music and media focused site please mark all songs, singles, albums, genres, soundtrack appearances, and so forth as links.
If a page (such as Saeed Yokota Erena and Yogi Keira) has an alternate spelling, please make a redirect page for the alternate one. How to use redirects can be found Help:Redirects.
More editing notes and tutorial links can be found on the Help page.
AKB48 Wiki Rules
When editing the pages, you may either add to previously written material or make revisions. Respect what others have written on the wiki.
Before creating a new page, check to make sure that the topic is not already covered.
Do not create pages that are not related to AKB48 or the sister groups. To discuss a 48 group member or event, create a blog post or start a forum topic.
Use proper spelling and grammar when editing articles.
Any factual information that is posted must be accurate.
The pictures posted on pages have to be a reasonable size, and cannot be too big.
Do not re-upload pictures that have already been uploaded or posted.
Do not erase the information or pictures on the page of another user. Also, do not not remove pictures from members or singles/albums pages.
Use appropriate language. Do not use any language that could be interpreted as offensive to others.
There is no competition or conflict intended among the users. Have fun editing this wiki!
AKB48 Wiki Admins
AKB48 Wiki Admins

| Username | Groups | Total Edits |
| --- | --- | --- |
| SweetS30 | bureaucrat, sysop | 7,744 |
| Sijfer | sysop | 19,275 |
Birthdays
Featured Celebrants
TV Programs
Poll
Extra Poll
Which member fits "Arisu Ria" in AKB49?
Recent Music Videos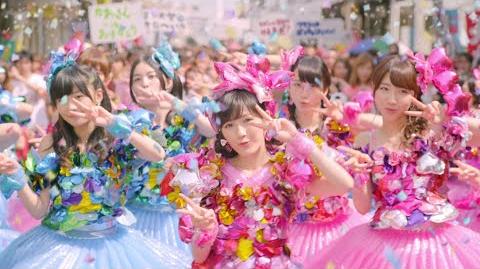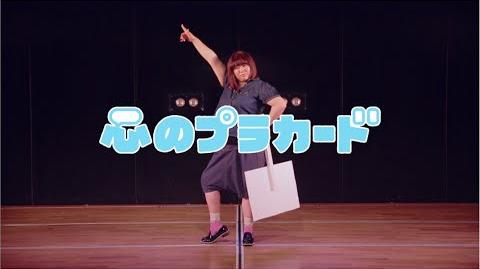 Release Date: August 27, 2014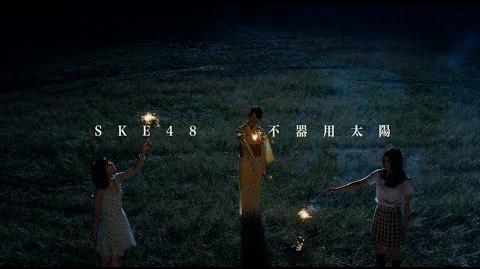 Release Date: July 30, 2014
Latest ALL48 Releases
Singles

Albums

Movies