Home
Talk

2
1,194pages on
this wiki
Random Members



Oshima Yuko is the captain of AKB48's Team K. She is also a member of Not yet. In 2010, she received the most votes, beating Maeda Atsuko. In the 2011 general election, she placed second to Maeda once again. In 2013 general election, she was voted second overall with 136,503 votes and lost to Sashihara Rino with 150,570 votes.
Recent ALL48 News
November 11, 2013 - SNH48 Team SII and Team NII Designation

SNH48 finally revealed the members for Teams SII and NII. Almost all of Team SII are from the 1st Generation SNH48 members, with the excemption of Kaigai members Miyazawa Sae and Suzuki Mariya and 2nd Generation members Jiang Yun, Sun Rui, Shen ZhiLin, Wen JingJie, Xu ZiXuan and Yuan YuZhen.

November 10, 2013 - AKB48 Group Draft Meeting

The 1st Generation Draft Members were sorted out to their new teams. 20 out of the 29 Draft Members were chosen to each team with SKE48 acquiring most of the recruits. The 9 remaining Draft Members were said to undergo further evaluation. Sutou Ririka, who mentioned that her lucky number was "48", was the sole Draft Member to join NMB48's Team N. Among all the Teams, SKE48's Team KII drafted the most with 5 members: Goudo Saki, Takatsuka Natsuki, Suzuki Nene, Arai Yuki, and Souda Sarina.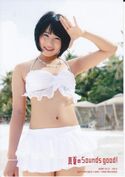 October 13, 2013 - Jo Eriko Returns to NMB48, plus a new Team N member.

NMB48's Jo Eriko, who graduated last September 28, 2012, was announced to return as a Kenkyuusei member. The announcement was held during the group's 3rd anniversary commemorative live concert.
Jo was reported to have taken a special audition earlier this month, and was accepted to join as an NMB48 Kenkyuusei.
Along with Jo's return, 2nd Gen member Hayashi Momoka was also promoted to Team N.

September 30, 2013 - SNH48's Miyazawa Sae & Suzuki Mariya to make their stage debut in October

On September 29th, it was revealed that SNH48's Miyazawa Sae and Suzuki Mariya will be making their stage debut in Shanghai on October 11th.
The top page of SNH48's official website introduces Miyazawa and Suzuki with the word "debut" written in Chinese characters. They will appear in the group's 1st anniversary special performance for 3 consecutive days from the 11th to the 13th.
Miyazawa and Suzuki transferred to SNH48 in August of last year, but their stage debut was delayed due to circumstances with their work visa. Through her official Twitter, Miyazawa expressed, "Finally... really, really... I'm happy."

September 27, 2013 - AKB48's Oshima Yuko & Kojima Haruna featured in Robin Thicke's 'Blurred Lines' parody PV

Robin Thicke ft. AKB48 - Blurred Line

AKB48 members Oshima Yuko and Kojima Haruna has collaborated with singer Robin Thicke for the parody PV of his song "Blurred Lines".
"Blurred Lines" is a hit number that has held the number 1 spot in Billboard's Hot 100 chart for 12 consecutive weeks. Its PV has gathered over 200 million views on YouTube.
Regarding the collaboration, Oshima commented, "Robin did a really good job leading us, so we were able to enjoy it in high spirits." Kojima added, "It was so fun that I wondered if it was reality."
Meanwhile, Robin said, "They are beautiful, their personalities are wonderful, and they are very good at dancing, so I really enjoyed myself."
On September 24, it was revealed that former AKB48 member Maeda Atsuko (22) and kabuki actor Onoe Matsuya (28) are in a relationship.
According to those who know the two, "they officially started dating since the start of this year." As they share interest in watching movies and plays, they immediately clicked upon meeting. Matsuya has already introduced Maeda to his mother, and Maeda has also informed her mother about their relationship.
Matsuya is said to be a big fan of AKB48. He appeared on the variety program 'Gachigase' in June of last year with Nakamura Shido and Nakamura Shichinosuke. When Shichinosuke first revealed that he's a fan of AKB48, Onoe said, "I'm the one suggested that AKB48 was wonderful." He even confessed that he has visited AKB48 Theater to watch their performances.

August 9, 2013 - AKB48 group to recruit new members through draft system

On August 8th, popular idol group AKB48 held the 2nd day of their live concert at the Kyocera Dome Osaka and made a surprise announcement about a new event called "AKB48 Group Draft Kaigi" being held on November 10th at Grand Prince Hotel New Takanawa.
The event will be held to recruit new members by the draft. Just like the drafts in sports, the captains of 10 total teams in AKB48, SKE48 (*leaders for SKE48), NMB48, and HKT48, will appoint new members among the candidates who pass the "AKB48 Group Draft Candidate Audition" (to be held one of these days), after consultations with each group's theater managers.
There is a difference in this audition when compared to the group's regular auditions, which is that the candidates have no choice for which group (and team) they will join. If there is an appointment overlap, the candidate's team will be decided by drawing lots by the captains.
The candidates, whose negotiations are settled, will be assigned to the appointed team as Kenkyuusei members.
More details on the draft will be announced later date.

July 31, 2013 - Maeda Atsuko in Sapporo Dome Concert, Announcemet on SPR48

Maeda Atsuko made an appearance in AKB48's Sapporo Dome Concert and sang her latest single.
ALL48 Theater Manager Togasaki Tomonobu also wrote on the AKB48 Official Blog that there are still no plans for a SPR48 Sister Group, but hopes that it would be possible to have a Theater in Sapporo along with the creation of SPR48.
Starting today, there's a commercial that started airing in Sapporo..
「 Why is AKB48 going to have a concert in Sapporo?
It's because we want to create Sapporo48! 」- is the commercial that is airing!!
I want them to make SPR48, so please keep on airing this CM!
If they really want to create another sister group, instead of Sapporo I think Sendai is a better option – considering transportation and everything…
Even if they start auditioning 1st generation for SPR48 the next day after the Sapporo Dome concert, it'll sound normal?
Will it be a direct management from AKS, or a franchise like Namba? I wonder.
It's because the tickets aren't selling well so they created this CM right!
AKS already acquired the domain of spr48.jp
Akimoto (Yasushi) 「 "We want to create" might have been said but "We will create" was never said 」
It would be really great if this can be a realized
On the 18th of June 2013, JKT48 Operational Team officially announced that their 1st generation member, Rena Nozawa, is going to hold a concurrent position in AKB48 due to the unfortunate situation where her parents have return to Japan for reasons related to their work.
Announcement of Rena Nozawa's double position [sic] in JKT48 dan AKB48
Due to the fact that JKT48 Team J Rena Nozawa has to return to Japan, on Tuesday 18th of June 2013, it was announced in JKT48 Theatre that she will be holding a concurrent position in both JKT48 and AKB48. This would be the first time in the history of 48Group that an overseas sister group member is able to hold a concurrent position in both her original team and AKB48. Under these circumstances, Rena will also continue her activities as a member of JKT48 Team J.
Rena Nozawa, whose parents hails from Japan, successfully passed the audition for JKT48′s 1st Generation in November 2011, and became one of the only Japanese member among all the Indonesian members. Together with Takajo Aki and Nakagawa Haruka, she became a member of JKT48 Team J
Because Rena thinks that it's of the utmost importance that this news is announced personally, on Tuesday 18th of June she directly announced this news to the fans at the JKT48 Theater
Information regarding which team (in AKB48) she will be participating as a member in and her activities as a concurrent member of both groups will be announced shortly JKT48 Operation Team

June 15, 2013 - Graduation Ceremonies set for Shinoda Mariko, Akimoto Sayaka, & Itano Tomomi + Maeda Atsuko Dome Appearance

It has been revealed that AKB48′s former member Maeda Atsuko to make appearance at AKB48′s concert held at Sapporo Dome on July 31st.
This was announced during the hand shake event held at Makuhari Messe, Chiba on June 15th, it surprised the fans in the venue and received loud applause.
After Acchan graduated at AKB48 theater (Akihabara, Tokyo) on August 27, 2012, it is her first time to appear on concert of AKB48.
During the event, the trailer for "AKB48 2013 Manatsu no Dome Tour – Mada Mada, Yaranakya Ikenai Koto ga Aru -" was projected on the screen. After that, the word "Eien no Nakama Tachi (= forever friends)" was flashed on the screen. Then, it was also announced the graduation ceremony for Shinoda Mariko will be held at FUKUOKA YAFUOKU! DOME on July 21, and for Akimoto Sayaka will be held at Tokyo Dome on August 22, for Itano Tomomi will be held at Tokyo Dome on August 25.
Furthermore, there was an additional narration, "There is another eternal friend of us, we also want to perform with her on the same stage again."
Then, "Maeda Atsuko will appear at Sapporo Dome on July 31″ was announced.
She participated in a video at live events after graduation, and also appeared at the venue of General Election, but to appear on AKB48′s concert is the first time.
It was also revealed that a new unit will be unveiled in the concert.
The trailer was concluded that "This summer, PAST, PRESENT, FUTURE will be all together in 5 Dome." This summer will be hottest for fans.

June 7, 2013 - AKB48 will live stream 32nd Single Senbatsu Election

YouTube has just announced that they will be streaming live AKB48's 32nd Single Senbatsu Election! The livestream will be broadcast on AKB48's Official YouTube Channel, starting 17:15 JST on election day. FujiTV will also be streaming the election, however their broadcast will only start an hour after the election starts, at 18:30 JST (The election starts at 17:30 JST).
AKB48 32nd Single Senbatsu Election
Date: 8th June 2013
Concert Start: 15:00 JST
Elections Start: 17:30 JST
YouTube Livestream broadcast starts: 17:15 JST
Fuji TV Livestream broadcast starts: 18:30 JST
The biggest announcement for me personally is that on the election day, AKB48 has set up a service where you can send messages to your favorite members via the internet. Text and photo messages can be sent to them through a special group on Google+, and video messages no less than 5 and no more than 15 seconds uploaded onto YouTube. The application for your messages has already started, and will continue until the election day on 8th June, 2013. Here are the instructions from AKB48. More Information

March 28, 2013 - Maeda Atsuko declares she won't be participating in AKB48's upcoming General Election
On March 28, Maeda Atsuko revealed through her official Twitter that she will not be participating in 'The 5th AKB48 General Election'. As reported earlier, there was a change of rules in this year's election with the establishment of the "candidacy system". Under this, former members who were a part of the AKB48 family for more than 4 years are allowed candidacy.
On the same day, Maeda attended a press conference for 'MTV VMAJ 2013' as the MC. She stayed silent when reporters asked questions regarding her participation in the election. Then at about 3:30 pm, she tweeted, "I won't be appearing in the General Election," and explained, "During that time in June, I will be overseas for filming." She also gave a shout out to the members who will be present at the election saying, "But I will be supporting everybody from the bottom of my heart."
So far, former AKB48 members Masuda Yuka, Yonezawa Rumi, and Nakaya Sayaka revealed that they won't be participating in the election. While former SDN48 members Noro Kayo and Urano Kazumi announced their intentions to participate. The reception desk period for the candidacy will start on March 31.

March 26, 2013 - Details on AKB48's "the 5th Senbatsu General Election" revealed!

It was announced that popular idol group AKB48 will be holding their annual "Senbatsu General Election" at Nissan Stadium on June 8! This year's election will be held during the "AKB48 Super Festival" which was announced in January.
The "Super Festival" will be titled "AKB48 Super Festival ~Nissan Stadium, Chicchee! Chicchakunaishi!!~", and it will consist of 2 parts. The first part will be a live concert which all AKB48 groups appear (will begin at 3:00 pm), and the second part will be the event for the results of the vote count (will begin at 5:30 pm).
This general election is to decide the participating members for their 32nd single (to be released in August) by the fans' votes, and this will be the 5th year for the election to be held. The first election was held at Akasaka BLITZ, and the second to fourth elections were held at Nippon Budokan, thus this will be the first time for the election to be held at Nissan Stadium which is an open-air venue.
Not only the venue, but there will also be some differences in the previous years. Though all the members automatically participated in the election until last year, this year's election will be "candidacy system."
The members who have the right to stand as a candidate are…
(1) The members in AKB48, SKE48, NMB48, and HKT48 (as of March 31)
(2) Former AKB48 members who transferred to the sister groups in overseas (Takajo Aki, Nakagawa Haruka, Suzuki Mariya, Miyazawa Sae)
(3) OG members who have been the member of AKB groups more than 4 years
Same as the previous years, 64 members will be elected for the 32nd single. Details are as follows.
(1) #1~#16 = 32nd single Senbatsu members
(2) #17-#32 = Under Girls
(3) #33-#48 = Next Girls
(4) #49-#64 = Future Girls
The reception desk period for the candidacy will be from March 31 at 12:00 pm ~ April 7 at 12:00 am. The members who are willing to run as a candidate need to submit a written notice to the election executive committee which is set in each theater.
The fans who can vote for the election will include those who purchase AKB48's 31st single (currently untitled) which will go on sale on May 22, fan club members, mobile members, and so on. The time to vote for the election will be during May 21 at 10:00 am ~ June 7 at 3:00 pm (JST).

February 1, 2013 - Itano Tomomi to graduate from AKB48 this year

On February 1st, it was announced that Itano Tomomi would be graduating from AKB48 this year. Itano's graduation was announced in AKB48's documentary film, 'DOCUMENTARY OF AKB48: NO FLOWER WITHOUT RAIN Shoujo Tachi wa Namida no Ato ni Nani wo Miru?'. During a stage greeting, Itano herself announced, "I'm Itano Tomomi from Team K. I made a sudden announcement through this interview, but I, Itano Tomomi, will graduate from AKB48." "The interview for this documentary was supposed to be about the members of AKB48, their scandals last year, AKB48 in the future, and the graduation of (Maeda) Atsuko, but my feelings towards graduation became stronger. I decided to announce it like this." Itano shared that she had been discussing her graduation with producer Akimoto Yasushi stating, "When I confirmed to Akimoto-sensei that I had expressed my true feelings (during the filming of the movie), he told me 'okay'. It could've been cut out during the editing, but I had them use it." When she expressed, "Although my time with the fans and members are running out, I would like to enjoy it. Thank you," there were fans who cried out, "Don't quit!" Regarding the timing of the announcement, Itano revealed, "I actually wanted to wait until our spring concert to announce it, but I expressed my true feelings in the interview." She also mentioned that she talked to Maeda Atsuko about it. "I'm good friends with Atsuko and I have been influenced by her, but I needed to decide on my own path myself. It's not that I made this decision in a hurry, but I want both of us to do our best." Finally, Itano stated, "We haven't decided on the day yet, but I will announce it once it has been decided. I want to enjoy the time that I have left. I also want to enjoy it as a first generation member." Itano is one of AKB48's starting members along with Maeda Atsuko and Takahashi Minami. In January of 2011, she became the first member from the group to make her solo debut.

January 26, 2013 - AKB48 and sister groups to hold live concerts at Nippon Budokan in April

It was announced that the AKB48 groups will hold a 4-day live concert (total 6 stages) at Nippon Budokan in April. The announcement was made during the 3rd day of "AKB48 Request Hour Set List Best 100 2013" held at TOKYO DOME CITY HALL. The live concert is titled as "AKB48 Fair." Though AKB48 has been holding their annual events like "General Election" or "Janken Tournament" at the Nippon Budokan, this would be the first time in 4 years for them to hold a sole live concert at the venue since their last one in August of 2009. Moreover, it will be the very first time for their sister groups SKE48, NMB48, and HKT48 to hold a live concert there by themselves. Below is the schedule for the "AKB48 Fair." April 25th 2013 (Thu) : SKE48, April 26th 2013 (Fri) : NMB48, April 27th 2013 (Sat) : HKT48 (day time), April 27th 2013 (Sat) : AKB48 (night time), April 28th 2013 (Sun) : AKB48 groups (2 stages for day and night)
On January 25, 2013, at AKB48's Request Hour Setlist 2013, at the end of the ranking, it was announced that the staff will be reshuffled into different theaters. Yuasa Hiroshi (former SKE Theater manager) is appointed as new AKB Theater manager, Shiba Tomoya, Former Team K chief manager is appointed as new SKE Theater manager, Kaneko Tsuyoshi, NMB Theater manager to retain current position, Ozaki Mitsuru, New HKT Theater Manager appointed, and Togasaki Tomonobu is promoted as the General Theater Manager for all 48 Groups
AKB48 Wiki Rules
The pictures in the members pages have to be a reasonable size. The pictures cannot be too big.
Do not re-upload pictures that have already been uploaded or posted.
Respect what others have written on the wiki.
You may either add to what others have written, make revisions to something, or begin something new on the wiki.
Use correct spelling and grammar on the wiki. Remember that what goes up on the wiki, goes up for the world to see. This is published writing, not a draft.
Use appropriate language. Do not use any language that could be interpreted as mean to others.
Any factual information must be accurate.
Do not create pages that aren't about AKB48 or Sister groups. If you want to talk about a AKB48 member, please create a blog about it.
Do not erase a User's information or pictures on the members, singles and albums pages.
The wikia is not a competition with the Users have fun with the wikia.
Helping out
This is an open Wiki that anyone can edit. Accurate and helpful information is always welcome so feel free to add to or extend anything you see. Changes are monitored by other users and all edits can be reversed with a couple clicks.

To write a new article, just enter the article title in the box below.
Not sure where to start?
Adding content
Talk and more...
Check out the community portal to see what the community is working on, to give feedback or just to say hi.
Important Editing Notes
Regular Wikipedia entries do not contain links to song and album titles, but as this is a music and media focused site please mark all songs, singles, albums, genres, soundtrack appearances, and so forth as links.
If a page (such as Saeed Yokota Erena and Yogi Keira) has an alternate spelling, please make a redirect page for the alternate one. How to use redirects can be found Help:Redirects.
More editing notes and tutorial links can be found on the Help page.
Japanese Characters
This Wiki uses Japanese Kanji on many pages. If you see a bunch of question marks in a row on a line of text, you do not have Kanji fonts. However, most modern operating systems (Windows XP, OS X, Linux) have many languages and fonts built in, and it's just a matter of enabling them somewhere in the "Language" section of the control panel. Consult your operating system help guide for more instructions or check out Using Japanese language on your computer.
Official Links


Sister Wikis
AKB48 Wiki International
Birthdays
Featured Celebrants
December 5, 2013
New TV Programs
Poll

Which member do you want to be featured in Wikia.com? (click here for details)
Recent Music Videos
Release Date: December 11, 2013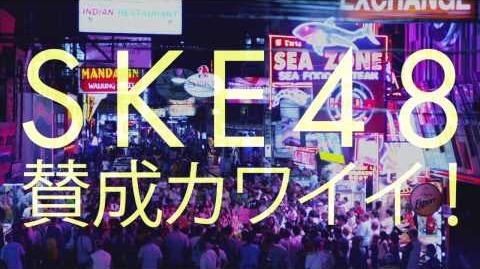 Release Date: November 20, 2013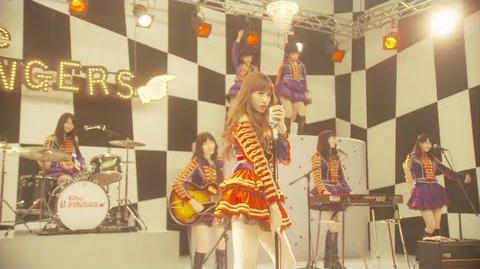 Release Date: October 30, 2013
Latest ALL48 Releases
Singles

AKB48 - Heart Electric - October 30, 2013
SKE48 - Sansei Kawaii! - November 20, 2013
AKB48 - Suzukake Nanchara - December 11, 2013
JKT48 - Manatsu no Sounds Good! - TBA

Albums

TBA
Did you know...
...that Fujie Reina is the only AKB48 member and including AKB48's sister groups that has a relative in Hello! Project.
...that Yamada Nana is the only NMB48 member and including the sister groups that has a relative in Johhny's Entertaiment.
...that Maeda Atsuko's graduation announcement is AKB48's biggest surprise announcement in AKB48 History.
...that they often call their 28th single UZA, the most difficult dance in AKB48 history .
...that Shinoda Mariko is the first member to announce her graduation in a Senbatsu Election
...that AKB48 is the fourth group in Japan to Live Stream on Youtube. The first group being Hello! Project group C-ute, the second being Hello! Project group Buono!, and the third being Hello! Project group S/mileage.
...that AKB48 member Umeda Ayaka auditioned, in 2004, for Morning Musume's 7th Generation, but failed.
...that AKB48 member Kojima Haruna would have rather auditioned for Morning Musume than AKB48.
...that AKB48 started doing to Request Hour Set List Best 100 and the Senbatsu Elections when they switched Labels.
...that there are only 3 1st Generation members left in AKB48.
...that there are only 4 2nd Generation members left in AKB48.
...that there are only 6 3rd Generation members in AKB48.
...that AKB48 has three Guinness World Records. One record is "Pop Group With The Most Amount Of Members", and the second one is "Most Number of Same Product Television Endorsement within 24 Hours", and the third one is "The Most Number of Pop Singers Featured in a Video Game".
AKB48 Wiki Admins
AKB48 Wiki Admins

| Username | Groups | Total Edits |
| --- | --- | --- |
| SweetS30 | bureaucrat, sysop | 6,580 |
| Sijfer | sysop | 14,501 |