Home
Talk

2
1,466pages on
this wiki
Welcome to AKB48 Wiki
The wiki about AKB48 and Sister Groups anyone can edit

38,301 edits • 1,466 articles • 5,765 files uploaded • 14 active users since January, 2010
Recent ALL48 News
July 3, 2014 - AKB48 Group Resumes Handshake Events starting July 5

King Records has announced that AKB48 will hold their handshake event on July 5 at Tokyo Big Sight.
Since the slashing incident that took place in Iwate Prefecture on May 25, all the other handshake events in places such as Nagoya had been postponed.
There will be increased security and metal detectors at the event, and allocated storage for bags during the handshake itself. With increased security, the organizers have concluded that it will safe enough for AKB48 to carry on their handshake events.
For the events stricter security rules have been decided. At the entrance belongings will be checked and the bags you are allowed are limited to one per person with a maxium size of 90 cm (height, width and length). Those who don't have a handshake ticket also can't enter the venue. Metal detectors will also be established. Those who bring beverages will have to taste it in front of staff members and all non-drink liquids will have to undergo some kind of security check. Cans and glass bottles are not allowed. Before the actuall handshake with a member baggage has to be put aside at a designated spot outside the handshake booth. Offcial goods shop, trading areas, places for exchaging birthday message cards, girls-only area and family area which are usually set up at such an AKB48 event will not be set up this time.
Future handshake events will depend on how the July 5 event pans out.
June 7, 2014 - The Final results of AKB48's 6th General Election have been revealed
Senbatsu

1. Watanabe Mayu (159,854)
2. Sashihara Rino (HKT48, 141,954)
3. Kashiwagi Yuki (AKB48/NMB48, 104,364)
4. Matsui Jurina (SKE48, 90,910)
5. Matsui Rena (SKE48/Nogizaka46, 69,790)
6. Yamamoto Sayaka (NMB48/AKB48, 67,916)
7. Shimazaki Haruka (67,591)
8. Kojima Haruna (62,889)
9. Takahashi Minami (57,388)
10. Suda Akari (SKE48, 48,182)
11. Miyawaki Sakura (HKT48/AKB48, 45,538)
12. Miyazawa Sae (SNH48/SKE48, 44,749)
13. Yokoyama Yui (40,232)
14. Ikoma Rina (Nogizaka46/AKB48, 40,089)
15. Shibata Aya (SKE48, 39,264)
16. Kawaei Rina (39,120)

Undergirls
Upcoming Girls
After two AKB48 members were attacked on May 25th, AKB48 closed its theater and cancelled all planned shows. A week has passed since this happened, and the theater has now been reopened.
The first show was held on June 2nd by Team A, the team of the injured members Iriyama Anna and Kawaei Rina. Both are still on break, and did not appear at the performance.
To protect the members, the management of AKB48 made several changes to the security system. Metal detectors have been established at the theater entrance, and the number of security staff has been increased. For the opening show, there were 6 policemen on lookout in the theater. Additionally, a barrier similar to a fence was established between the audience and the stage. This is a drastic change for AKB48, since the group has always put great importance into being "close" to their fans.
Because of the attack, fans have lost an opportunity to interact with the group. At the end of theater shows, the AKB48 members always high five the people in the audience. This did not happen at the theater performance on June 2nd, and it is unknown whether the high-fives will be introduced again.
Furthermore, it was not possible to watch the show on the monitor in the theater lobby. Unlike before, only people with a ticket to the specific show or on the cancellation waiting list were allowed into the lobby. This may be a temporary rule, or will possibly apply to all performances in the future.
At the upcoming election and concert in Ajinomoto Stadium, belongings of the people who attend will be checked, and metal detectors used as well.
May 25, 2014 - AKB48 theater manager explains Kawaei and Iriyama's conditions

As reported earlier, AKB48 members Kawaei Rina and Iriyama Anna got injured by a 24-year-old man with a saw, during the group's handshake event in Iwate.
On the 25th at 9:30 pm, AKB48 Theater manager Yuasa Hiroshi explained the details on those two's conditions in front of the hospital they are currently hospitalized.
According to the theater manager, Kawaei fractured the thumb of her right hand, and got slashed on her right arm. Iriyama fractured the pinky finger of her right hand, and got slashed on her head area and right arm. Both of them received surgeries to join the edges of the wounds.
The theater manager also revealed that those two are able to have clear conversation, and they looked calm right before the surgeries.
Along with the two members, there was a male staff member who also got injured, but none of them are life-threatening.
May 25, 2014 - BREAKING NEWS! AKB48's Kawaei Rina and Iriyama Anna slashed at a handshake event in Iwate

It was reported that there was an injury case during AKB48's handshake event held at Iwate Industrial Culture Center Apio on May 25. AKB48 members Kawaei Rina, Iriyama Anna, and a staff member were injured.
According to the source, all three individuals sustained hand injuries, and were transported to a hospital. It is unknown how serious their injuries are, but they are all conscious, and it does not seem to be life-threatening.
The sponsor explained it was around 5:00 pm when they called police and stated that 'a man with an edged tool went on a rampage.'
Iwate Prefectural Police arrested the man on suspicion of attempted murder, and they said, "The man suddenly attacked them with a saw." According to NHK's report, it was a 24-year-old man from Towada, Iwate, and he accepted the charge.
The handshake event began at 1:00 pm, and many members were in attendance. However, they did not make a possession check of visitors during their entrance.
May 23, 2014 - The preliminary results of AKB48's 6th General Election have been revealed
Senbatsu

1. Sashihara Rino (HKT48, 37,582)
2. Watanabe Mayu (25,283)
3. Matsui Jurina (SKE48, 23,012)
4. Kashiwagi Yuki (17,266)
5. Shimazaki Haruka (15,514)
6. Matsui Rena (SKE48, 14,897)
7. Yamamoto Sayaka (NMB48, 14,798)
8. Shibata Aya (SKE48, 12,340)
9. Matsumura Kaori (SKE48, 12,190)
10. Kodama Haruka (HKT48, 9,879)
11. Moriyasu Madoka (HKT48, 9,562)
12. Yokoyama Yui (9,505)
13. Takahashi Minami (9,005)
14. Futamura Haruka (SKE48, 8,755)
15. Kitahara Rie (8,584)
16. Miyazawa Sae (SNH48, 8,273)

Undergirls
Upcoming Girls
Latest ALL48 Concert and Events
Concerts

Events
Important Editing Notes
Regular Wikipedia entries do not contain links to song and album titles, but as this is a music and media focused site please mark all songs, singles, albums, genres, soundtrack appearances, and so forth as links.
If a page (such as Saeed Yokota Erena and Yogi Keira) has an alternate spelling, please make a redirect page for the alternate one. How to use redirects can be found Help:Redirects.
More editing notes and tutorial links can be found on the Help page.
Birthdays
Featured Celebrants
July 28, 2014
TV Programs
Poll
Recent Music Videos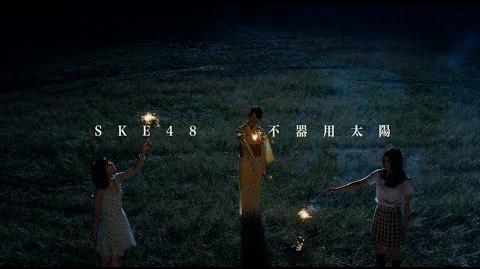 Release Date: July 30, 2014
Release Date: August 13, 2014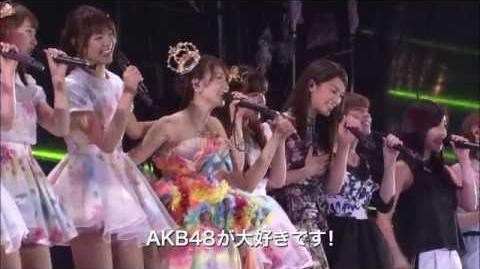 Release Date: July 4, 2014
Latest ALL48 Releases
Singles

Albums

DVDs
Upcoming ALL48 Releases
Singles

Albums

Movies
AKB48 Wiki Rules
When editing the pages, you may either add to previously written material or make revisions. Respect what others have written on the wiki.
Before creating a new page, check to make sure that the topic is not already covered.
Do not create pages that are not related to AKB48 or the sister groups. To discuss a 48 group member or event, create a blog post or start a forum topic.
Use proper spelling and grammar when editing articles.
Any factual information that is posted must be accurate.
The pictures posted on pages have to be a reasonable size, and cannot be too big.
Do not re-upload pictures that have already been uploaded or posted.
Do not erase the information or pictures on the page of another user. Also, do not not remove pictures from members or singles/albums pages.
Use appropriate language. Do not use any language that could be interpreted as offensive to others.
There is no competition or conflict intended among the users. Have fun editing this wiki!
AKB48 Wiki Admins
AKB48 Wiki Admins

| Username | Groups | Total Edits |
| --- | --- | --- |
| SweetS30 | bureaucrat, sysop | 7,699 |
| Sijfer | sysop | 18,716 |