Home
Talk

2
1,588pages on
this wiki
Welcome to AKB48 Wiki
The wiki about AKB48 and Sister Groups anyone can edit

43,938 edits • 1,588 articles • 6,359 files uploaded • 14 active users since January, 2010
Random Members



Tashima Meru is a member of HKT48's Team H. She was added in September 2012. Was a finalist in Morning Musume's 10th generation audition. Considered by Aki-P as the "New Jurina"
Recent ALL48 News
December 8, 2014 - AKB48's Takahashi Minami announces her graduation from the group

On December 8, AKB48 held their "9th anniversary special theater performance" at AKB48 theater in Akihabara, Tokyo. During the performance, the general manager of the 48 groups, Takahashi Minami announced her graduation from AKB48 which will come by the group's 10th anniversary (December 8, 2015).
Below is the speech made by Takahashi Minami
"During 2014, so many things happened to AKB48 which included farewells with the members, and also a crisis as a group. It's thanks to everyone that we were able to celebrate our 9th anniversary wonderfully here at this theater, after everything we went through.
In retrospect, we were standing on this stage on December 8 in 2005. Honestly, we had a hard time in the beginning, like everybody always called us 'Akiba48', and we were hardly recognized by the public. However, even those times, this theater has always been here. While having hard and difficult times, or when it seems to be too difficult for us to even stand up, you guys always cheer for us with smiles if we come back to this theater. This is home for us.
Our home has two pillars. To be honest, they get in our way, but there is a conventional event. We decided to put a pink tape around the pillars every year on the theater's birthday. We have been doing that since our first year wishing someday, it will be fully covered with the pink tapes, and we won't be able to see the pillars anymore. Maybe it did not mean too much at first, but I am happy that we were able to place the tape with you guys and many fellow members for the 9th time like this. 
Next year, the 10th tape will be added on these pillars, and it will be AKB48's 10th anniversary. If I look back, I feel that it went too fast sometimes, and it was a long way sometimes. The 10th year sure will be our milestone.
Now, please let me make an announcement. I, Takahashi Minami will be graduating from AKB48 by December 8, 2015. It is a year away, but I am the general manager of AKB48 group, and I need the time to hand things over to my fellow members, so I made the announcement at this time.
I am really glad that I joined AKB48. I have experienced many farewells with members, and now there are only 3 members remaining who joined the group at the same time with me. The scenery surrounding us seems to start changing too. When I sing the old songs, almost all our original members are gone, and I'm not gonna lie that I've never felt why I had to be here. Even so, I am still glad to be here, because I was able to encounter Akimoto Sensei and the staff members, these great members, and above all, you fans. It is the best treasure in my life.
There may be only few things I can repay AKB48, but I want to leave something that can bear AKB's future, and I believe that to do so is one thing I can do for the group. I have appointed Yokoyama Yui as the next general manager. Honestly, being the general manager is hard...very hard, and I'm sure the members know that. So I hated that I had to hand over the name of general manager to Yokoyama Yui who I'm good friends with. I feel bad that I had to hand it over to my precious junior when I know it is very hard, and I even thought I should be the last one to take the duty. However, AKB is a group with a large number of girls. There are times the members can't concentrate or be united, so I think this group needs a person who can call out to the members during those times.
(Takahashi calls up Yokoyama to the front) She is a great junior member for me. She is earnest, and also clumsy, but she tries her very best. Her dream is also to make a solo debut which was the same as mine. I was worried that to hand over the general manager position to her might keep the dream away from her, but I believe that she needs an opportunity. Being the general manager is difficult, but at the same time, it gives you many opportunities to be recognized by the public, so I hope she takes this as her chance, and do her best. For that, I will pass the baton during the whole year. There are too many things I can hand over to her, and to other members. One year may not be long enough, but I would want to do my best with the fellow members during the remaining time.
The exact graduation date and the details have not been decided yet, but I will announce you guys later in some way. One thing I can say is that this is not a sad thing. AKB48 will be celebrating the 10th anniversary next year. I am happy to be able to stay in the group for 10 years, and I know this group will not end after 10 years. I want the members to lead it to the 11th anniversary, and I know they can do it. I will try my own best to pass the baton to Yokoyama Yui, and the fellow members, so please continue to support AKB48 group."

October 31, 2014 - Watanabe Mayu to undergo treatment for acute tonsillitis

It's been reported that AKB48's Watanabe Mayu has been diagnosed with acute tonsillitis and will devote herself to medical treatment for about 10 days.
Consequently, Watanabe will not be participating in the big handshake event for AKB48's single "Kokoro no Placard" Theater Edition (called "AKB48 'Kokoro no Placard' Gekijouban Hatsubai Kinen Dai Akushukai") that's scheduled to be held on November 3 at Makuhari Messe. The future course of action will be announced after the details are decided.
Get well soon!
October 15, 2014 - NMB48's Yamada Nana to graduate from the group

It's been reported that NMB48 Team M captain and SKE48 Team KII member Yamada Nana will be graduating from the group. Yamada's graduation will be held on April 3rd of next year, her 23rd birthday.
Since October 14, NMB48 has been holding their fourth anniversary lives at Osaka International Convention Center. Yamada's announced her graduation during the concert on October 15. The idol revealed that she found a new life goal while being active in NMB48 for 4 years. "I've decided to take my chance and leave," she said.
Yamada made her debut as a 1st Generation member of NMB48's in October 2010. She has been the captain of Team M since February 2014, and also has a concurrent position with SKE48 Team KII.
October 15, 2014 - Kojizaka46 to sing Kibouteki Refrain's Type-D coupling song
It was announced during the "Nogizaka46 Under Live Second Season" that the members of Kojizaka46 will sing Kaze no Rasen. This song will be a Type-D coupling track of AKB48's 38th single, Kibouteki Refrain.
Aside from Kojima Haruna, the members include the previous ones from the Janken Tournament: Ikoma Rina, Kawago Hina, Nagashima Seira, Saito Yuri, and Nakada Kana. In addition, they will be joined in by 1st Gen members Kawamura Mahiro, Noujo Ami, and Wada Maaya; and 2nd Gen members Ito Junna, Sagara Iori, Sasaki Kotoko, Suzuki Ayane, Terada Ranze, Yamazaki Rena, and Watanabe Miria.
On October 8, Nogizaka46's Matsumura Sayuri (22) made a live appearance on radio program "RECOMMEN!" That same day, Shukan Bunshun had reported that Matsumura went on a date in mid-September with a married man in his thirties. Photos in the article showed the pair kissing on the street. It was also reported that the two had continued going on dates.
Matsumura cried as she apologized, "I caused trouble by taking such a careless action." She said that she was not acquainted with the man previously, and he had invited her to a meal while she was walking down the street. Matsumara stated that she had not known he was married, and she also did not inform him of her background. The Nogizaka46 member explained, "On the day that the photos were taken, I was extremely distressed and I got really drunk, which is out of the ordinary for me. I can't believe how stupid I was."
Matsumura is a popular member of Nogizaka46, and she has been in the senbatsu of all of the group's singles. This is the first love scandal in Nogizaka46, which is considered to have a conservative image.
September 17, 2014 - Senbatsu members of AKB48's 38th single announced
The senbatsu members for AKB48's 38th single were announced at the end of the Janken Tournament. Watanabe Mayu and Miyawaki Sakura will be W Centers of a 32 member senbatsu. Miyawaki is the first HKT48 member chosen by management to center an AKB48 A-side. This single will mark the first senbatsu of Muto Tomu, Oshima Ryoka, Kawamoto Saya, and Mukaichi Mion. Shiroma Miru and Moriyasu Madoka also will have their first inclusion in AKB48 senbatsu. In addition, Team 8 member Nakano Ikumi was chosen for the 38th single line-up. This will mark the first time that a member of this team is featured in senbatsu.
The 38th Single Senbatsu Members
Important Editing Notes
Regular Wikipedia entries do not contain links to song and album titles, but as this is a music and media focused site please mark all songs, singles, albums, genres, soundtrack appearances, and so forth as links.
If a page (such as Saeed Yokota Erena and Yogi Keira) has an alternate spelling, please make a redirect page for the alternate one. How to use redirects can be found Help:Redirects.
More editing notes and tutorial links can be found on the Help page.
AKB48 Wiki Admins
AKB48 Wiki Admins
Username
Groups
Total Edits
SweetS30
bureaucrat, sysop
8,482
Sijfer
sysop
21,887
Sister Wikis
AKB48 Wiki International
Birthdays
Featured Celebrants
December 20, 2014
TV Programs
Poll
"梅田" Battle! Umeda VS Umeta!
Extra Poll
Which AKB48 Sister Group do you want next?
Note: This is only a fan-survey and will not affect the decision of the AKS management. The logos are designed by fans from Half-Assed Subs and Kome48 respectively.
Wikimedia Poll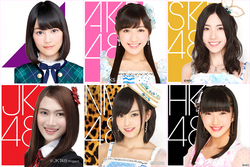 Thank You for participating here are the results:
Check it at Wikia.com
Recent Music Videos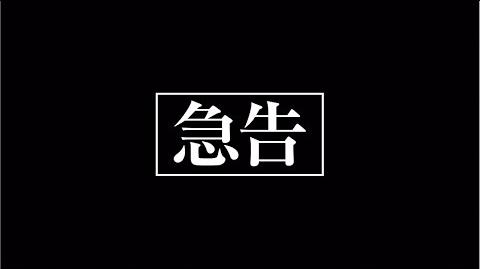 Release Date: November 26, 2014
AKB48 Wiki Rules
When editing the pages, you may either add to previously written material or make revisions. Respect what others have written on the wiki.
Before creating a new page, check to make sure that the topic is not already covered.
Do not create pages that are not related to AKB48 or the sister groups. To discuss a 48 group member or event, create a blog post or start a forum topic.
Use proper spelling and grammar when editing articles.
Any factual information that is posted must be accurate.
The pictures posted on pages have to be a reasonable size, and cannot be too big.
Do not re-upload pictures that have already been uploaded or posted.
Do not erase the information or pictures on the page of another user. Also, do not not remove pictures from members or singles/albums pages.
Use appropriate language. Do not use any language that could be interpreted as offensive to others.
There is no competition or conflict intended among the users. Have fun editing this wiki!