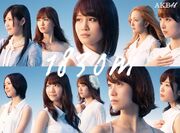 Anti is a coupling song from AKB48's 21st single, Everyday, Katyusha, sung by AKB48 Kenkyuusei. The song is also included on AKB48's second album, 1830m.
Song Information
Artist

Kana Title

アンチ

Romaji Title

Anchi

English Title

Anti

Single

Album
Performing Members
Kenkyuusei: Abe Maria, Fujita Nana, Ichikawa Miori, Iriyama Anna, Izuta Rina, Kato Rena, Kawaei Rina, Kobayashi Marina, Kojima Natsuki, Mori Anna, Morikawa Ayaka, Nagao Mariya, Nakamata Shiori, Nakamura Mariko, Natori Wakana, Oba Mina, Shimazaki Haruka, Shimada Haruka, Suzuki Shihori, Takeuchi Miyu, Yamauchi Suzuran, Ushikubo Sara, Yamaguchi Nau
External Links
Ad blocker interference detected!
Wikia is a free-to-use site that makes money from advertising. We have a modified experience for viewers using ad blockers

Wikia is not accessible if you've made further modifications. Remove the custom ad blocker rule(s) and the page will load as expected.