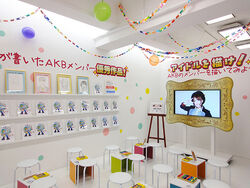 AKB48 Art Club (美術部  AKB48 Art Club?) is a club formed by members that likes to make art. Their artworks are featured in the monthly art magazine Bijutsu Techo (美術手帖  Bijutsu Techo?). The club was announced February 8, 2012 and was established along with 5 other clubs in April 2012.
Various artworks from members of the club were also featured in Shukan AKB.
In June 2012, an art exhibit was organized featuring the club members' art works and several AKB48-related arts that were also featured/used in various shows.[1]
Members
Gallery
AKB48 Art Club Exhibit
References
External Links
Ad blocker interference detected!
Wikia is a free-to-use site that makes money from advertising. We have a modified experience for viewers using ad blockers

Wikia is not accessible if you've made further modifications. Remove the custom ad blocker rule(s) and the page will load as expected.