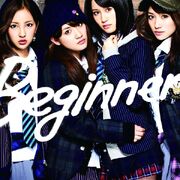 Boku Dake no value is a coupling song from AKB48's 18th single Beginner.
Boku Dake no value is sung by Undergirls.
Information
Artist

Kana Title

僕だけのvalue

Romaji Title

Boku Dake no value

English Title

A value that's only mine

Single
Performing Members
Team A: Iwasa Misaki, Oota Aika, Katayama Haruka, Nakagawa Haruka, Maeda Ami
Team K: Kikuchi Ayaka, Nakatsuka Tomomi, Nito Moeno, Fujie Reina, Matsui Sakiko, Yonezawa Rumi
Team B: Ishida Haruka, Oku Manami, Komori Mika, Sato Sumire, Hirajima Natsumi, Miyazaki Miho
SKE48, Team S: Kizaki Yuria, Yagami Kumi
SKE48, Team KII: Ishida Anna, Takayanagi Akane, Mukaida Manatsu

AKB48 Request Hour
External Links
Ad blocker interference detected!
Wikia is a free-to-use site that makes money from advertising. We have a modified experience for viewers using ad blockers

Wikia is not accessible if you've made further modifications. Remove the custom ad blocker rule(s) and the page will load as expected.