Chicken LINE
Released:
March 30, 2016
Genre:
J-Pop
Format:
CD Single, CD+DVD
Label:
Avex trax
Producer:
Akimoto Yasushi
Limited Edition Covers
SKE48 Singles Chronology
Previous:
Maenomeri
18th Single
(2015)
Next:
Kin no Ai, Gin no Ai
20th Single
(2016)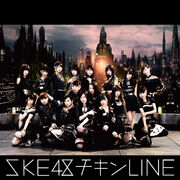 "Chicken LINE" (チキンLINE) is the nineteenth single released by SKE48.
Tracklist
Senbatsu (選抜) (17 Members) (Matsui Jurina Center)

Team S (チームS) (18 Members) (Matsui Jurina Center)

Team KII (チームKII) (18 Members) (Takayanagi Akane & Furuhata Nao Centers)

Team E (チームE) (17 Members) ([[]] Center)

Miyazawa Sae's graduation song ( Members) (Miyazawa Sae Center)

Passion For You Senbatsu (Passion For You 選抜) (15 Members) (Oya Masana Center)

Chicken LINE Original Cover
Ad blocker interference detected!
Wikia is a free-to-use site that makes money from advertising. We have a modified experience for viewers using ad blockers

Wikia is not accessible if you've made further modifications. Remove the custom ad blocker rule(s) and the page will load as expected.