Crow's Blood is a horror suspense drama miniseries featuring the members of AKB48 Group.
Cast
AKB48 Group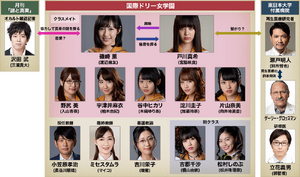 Other Actors
Miura Takahiro as Sawada Takeshita
Hasegawa Tomoharu as Ogasawara Kouji
Kaku Tomohiro as Tachibana Yoshio
Bessho Tetsuya as Seto Akihito
Maiko as Mrs. Tamura
Dan Mitsu as Yoshikawa Eiko
Nagae Hidekazu as The Principal
Charles Glover as Gary Gurossuman
Matsuo Satoshi as Dr. Seto's unnamed assistant replacing Tachibana
Lily Franky as Mortician
Someya Shota as the mysterious young man who spoke to Dr. Seto at the beginning of the series
KIrishima Reika as Utsui Sawako
Kurosawa Asuka as Isozaki Akemi
Katsuya as Takuma Shigeo
Music
External Links
Ad blocker interference detected!
Wikia is a free-to-use site that makes money from advertising. We have a modified experience for viewers using ad blockers

Wikia is not accessible if you've made further modifications. Remove the custom ad blocker rule(s) and the page will load as expected.