DOCUMENTARY of AKB48 The time has come Shoujotachi wa, Ima, Sono Senaka ni Nani Omou?
Comments

0
Share
Ad blocker interference detected!
Wikia is a free-to-use site that makes money from advertising. We have a modified experience for viewers using ad blockers

Wikia is not accessible if you've made further modifications. Remove the custom ad blocker rule(s) and the page will load as expected.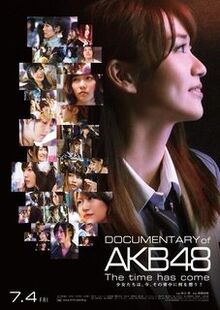 DOCUMENTARY of AKB48 The Time Has Come is the 4th AKB48 documentary. The movie will released on July 4, 2014. The Ai no Sonzai will be the title song. It will be directed by Takahashi Eiki.
The documentary is expected to include noteworthy events from January 2013 to June 2014, such as the Minegishi Minami Scandal, the AKB48 32nd Single Senbatsu Sousenkyo "Yume wa Hitori ja Mirarenai", the Graduation concerts of Kasai Tomomi, Nito Moeno, Shinoda Mariko, Akimoto Sayaka, and Itano Tomomi, the return of Team 4, Matsui Jurina's Janken Tournament Win, Oshima Yuko's graduation announcement, the AKB48 Group Dai Sokaku Matsuri and leading up to the creation of Team 8. Last minute changes are expected to be made to the documentary as the movie was most likely meant to lead up to Oshima Yuko's graduation at Tokyo National Olympic Stadium and the AKB48 37th Single Senbatsu Sousenkyo.
Members Talking
Documentary of AKB48 A to Z 2014
Anniversary
Bear
Coming of age Ceremony
Draft
Election
Formation
Graduation
Highest Record
Injection
Just for Fun!!
Kayano
Light Sticks
Music Video
New Generation
Ojisan Band
Production Design
Queen
Reshuffle
Self-introduction
TeruTeru Bouzu
Unique
Visit
White
Xoxo
Yoku Oshima
Zero
Videos
External Links