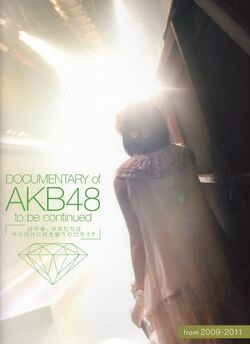 DOCUMENTARY of AKB48 to be continued "10 Nengo, Shoujo Tachi wa Ima no Jibun ni Nani o Omou Nodarou?" (DOCUMENTARY of AKB48 to be continued 10年後、少女たちは今の自分に何を思うのだろう?) is the 1st AKB48 documentary. The movie was released on January 22th, 2011. The DVD was released on April 22th.
The movie feature various moments of 2010, such as the 1st Janken Tournament, Oshima Yuko winning the 2nd Senbatsu Election and different shows and concerts.
Members Talking
Videos
External Links
Ad blocker interference detected!
Wikia is a free-to-use site that makes money from advertising. We have a modified experience for viewers using ad blockers

Wikia is not accessible if you've made further modifications. Remove the custom ad blocker rule(s) and the page will load as expected.