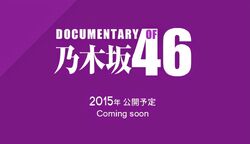 DOCUMENTARY of Nogizaka46 is the first Nogizaka46 documentary. The movie was released in May 2015, and it reveals the members growth over the past 3 years since their debut in 2011. In addition, it features Ikoma Rina's concurrent position between Nogizaka46 and AKB48, Matsui Rena's concurrent position between SKE48 and Nogizaka46, and the group's dream of participating in the 'Kohaku Uta Gassen'.
Ad blocker interference detected!
Wikia is a free-to-use site that makes money from advertising. We have a modified experience for viewers using ad blockers

Wikia is not accessible if you've made further modifications. Remove the custom ad blocker rule(s) and the page will load as expected.