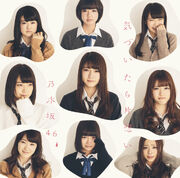 Danke Schoen (ダンケシェーン  Danke Schoen?) is a Regular Edition coupling song for Nogizaka46's 8th Single Kizuitara Kataomoi.
Basic Information
Title (English/German): Danke Schoen/Dankeschön
Title (Romaji/Kana): Dankeshēn (

ダンケシェーン

?

)
Single: Kizuitara Kataomoi
Lyrics: Akimoto Yasushi
Composition and Arrangement: Akira Sunset・C#
Performing Members
Trivia
Danke schön is a German word for "thank you very much" or "thank you kindly".
Not to be confused with Danke Schoen, a song with the same title written and recorded in 1962 which has both German and English Lyrics versions.
Ad blocker interference detected!
Wikia is a free-to-use site that makes money from advertising. We have a modified experience for viewers using ad blockers

Wikia is not accessible if you've made further modifications. Remove the custom ad blocker rule(s) and the page will load as expected.