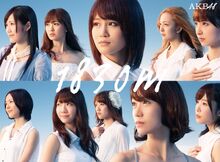 First Rabbit is a song from AKB48's second album, 1830m. It is one of 1830m's most popular songs, and is used to represent the album. The song was also included in JKT48's third single, Koi Suru Fortune Cookie. First Rabbit was used as the title song for AKB48's second documentary "DOCUMENTARY of AKB48 Show must go on Shoujo-tachi wa Kizutsuki Nagara, Yume wo Miru".
Information
Artist

Kana Title

ファースト・ラビット

Romaji Title

FAASUTO RABITTO

English Title

First Rabbit

Indonesian Title

First Rabbit

Singles

Album
Performing Members
AKB48
JKT48
TV Performances
[2012.09.19] Music Japan
[2012.09.07] Music Station
AKB48 Request Hour
Concert Performances
Trivia
First Rabbit ranked #2 in a vote to which AKB48 songs should have a PV, which was included in the AKB48's single Eien Pressure.
External Links
Ad blocker interference detected!
Wikia is a free-to-use site that makes money from advertising. We have a modified experience for viewers using ad blockers

Wikia is not accessible if you've made further modifications. Remove the custom ad blocker rule(s) and the page will load as expected.