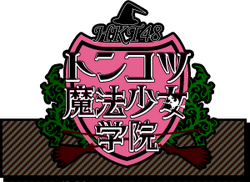 HKT48 Tonkotsu Magical Girls' Academy (HKT48トンコツ魔法少女学院  HKT48 Tonkotsu Mahou Shoujo Gakuin?) is a TV Program of HKT48. It follows the same format as HaKaTa Hyakkaten, but instead of a member from their sister groups, they feature famous TV Entertainment Personalities as their guests.
This program is competing against Nogizaka46's NOGIBINGO! in Nogizaka46 × HKT48 Crown Program Battle. The highest rated episode will air before the other program on the next week.
Participating Members

Center Magician:
Apprentice Magical Girls:
Episode List
External Link
Ad blocker interference detected!
Wikia is a free-to-use site that makes money from advertising. We have a modified experience for viewers using ad blockers

Wikia is not accessible if you've made further modifications. Remove the custom ad blocker rule(s) and the page will load as expected.