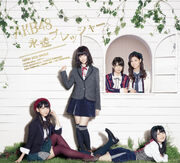 Hatsukoi Butterfly is a coupling song from AKB48's 29th single Eien Pressure.
Information
Artist

Kana Title

初恋バタフライ

Romaji Title

Hatsukoi Butterfly

English Title

First Love Butterfly

Single

Stage
Performing Members
Single Version
Team H: Anai Chihiro, Ueki Nao, Ota Aika, Kodama Haruka, Sashihara Rino, Shimono Yuki, Nakanishi Chiyori, Matsuoka Natsumi, Miyawaki Sakura, Murashige Anna, Motomura Aoi, Moriyasu Madoka, Wakatabe Haruka
Team H Version
Trivia
First original song by HKT48
Concert Performances
External Links
Ad blocker interference detected!
Wikia is a free-to-use site that makes money from advertising. We have a modified experience for viewers using ad blockers

Wikia is not accessible if you've made further modifications. Remove the custom ad blocker rule(s) and the page will load as expected.