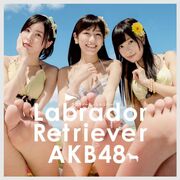 Heart no Dasshutsu Game is a coupling song from AKB48's 36th single Labrador Retriever, by Team 4.
Information
Artist

Kanji Title

ハートの脱出ゲーム

Romaji Title

HAATO no Dasshutsu GEEMU

English Title

Heart Escape Game

Single
Performing Members
Team 4: Iwatate Saho, Okawa Rio, Omori Miyu, Okada Ayaka, Okada Nana, Kato Rena, Kizaki Yuria, Kitazawa Saki, Kotani Riho, Kobayashi Marina, Komiyama Haruka, Sasaki Yukari, Sato Kiara, Shinozaki Ayana, Shibuya Nagisa, Takashima Yurina, Tsuchiyasu Mizuki, Nishino Miki, Maeda Mitsuki, Minegishi Minami, Mukaichi Mion, Murayama Yuiri, Mogi Shinobu
External Links
Ad blocker interference detected!
Wikia is a free-to-use site that makes money from advertising. We have a modified experience for viewers using ad blockers

Wikia is not accessible if you've made further modifications. Remove the custom ad blocker rule(s) and the page will load as expected.