Ad blocker interference detected!
Wikia is a free-to-use site that makes money from advertising. We have a modified experience for viewers using ad blockers

Wikia is not accessible if you've made further modifications. Remove the custom ad blocker rule(s) and the page will load as expected.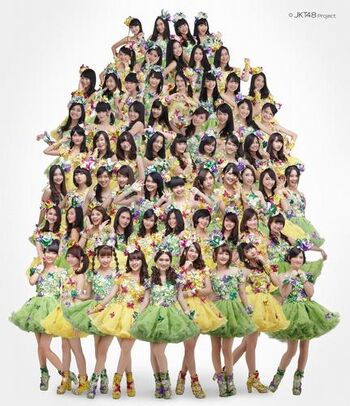 JKT48 (short for Jakarta48) is an Indonesian all-female idol group, based in Jakarta, Indonesia, where they have their own theater in the fX Sudirman mall. The group, established in 2011, was the first sister group of AKB48 outside of Japan. JKT48 is produced by Akimoto Yasushi, and signed under HITS Records. Currently the group consists of three teams: Team J, Team KIII, and Team T. In addition, the group also has trainees called kenkyuusei.
History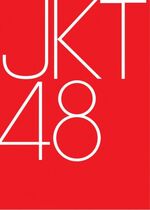 2011: Creation of the group
The formation of JKT48 was first announced on September 11, 2011 at an AKB48 event held at Makuhari Messe in Chiba. The interview for new applicants took place in late September, with the final audition for the finalist being held on October 8-9, 2011.
2012: Theater debut, creation of the 2nd Generation
On May 17, 2012, JKT48 held their first theater live performance.
JKT48's official theater opened on September 8, 2012.
On December 23, 2012, it was announced that JKT48 formed their first team, Team J, and that the single from their debut CD was set for release in January.
2013: Debut album released
On June 18, 2013, it was announced that Rena Nozawa to hold a concurrent position with AKB48.
On June 25, 2013, it was announced that Team KIII was formed
On July 4, 2013, it was announced the auditions for the 3rd Generation. It was also announced that they will be releasing their 3rd single, the same day as AKB48's 32nd single, it was also announced that JKT will have their own movie titled Viva JKT48.
Sub-units
Members
Former Members
Terms
Discography
Other Cover Songs
Ayo Penuh Skandal / Scandalous ni Ikou
Bersama Kamu, Pelangi, dan Mentari / Kimi to Niji to Taiyou to
Bibir dari Plastik / Plastic ni Kuchibiru
Cinta Pertama di Jam 7 lewat 12 / 7ji 12fun no Hatsukoi
Classmate
Dari Atas Melody / Ue Kara Mariko
Heavy Rotation - Dangdut Version - / Heavy Rotation
Incarlah Emas / Ougon Center
Jadi Diri Sendiri / Jibun Rashisa
JKT48 / AKB48
Kaca Berbentuk I Love You / GLASS no I LOVE YOU
Kita Berdua Jadian / Futari wa Dekiteru
Kupu-Kupu Yang Tak Dapat Terbang / Tobenai Agehachou
Malam Natal Bersamamu / Anata to Christmas Eve
Mari Kita Mulai Dari Ucapan / Aisatsu Kara Hajimeyou
NEW SHIP
Only Today
Party Akan Dimulai / PARTY ga Hajimaru yo
Petak Umpet Romansa / Romance Kakurenbo
Pintu Masa Depan / Mirai no Tobira
Rok Bergoyang / Skirt, Hirari
Terimakasih / Arigatou
Tersenyum Sambil Menangis / Nakinagara Hohoende
Langit Biru Cinta Searah / Aozora Kataomoi
Gadis Rambut Hitam / Zetsumetsu Kurokami Shoujo
Lap Time Gadis Remaja / Seishun no Lap Time
Nagiichi
Kitagawa Kenji
Cinta Yang Tak Terbalas / Kataomoi no Karaage
Melon Juice
Tolong Ingatlah / Oboete Kudasai
Hanya Padamu Chu! Chu! Chu! / Kimi Dake ni Chu! Chu! Chu!
JKT Festival / AKB Festival
Nyanyian Tidur Yang Sia-Sia / Oteage Lullaby
Stages
Team J
Team KII
Team T
Team Bunga Matahari
Kenkyuusei
Events
Senbatsu Election
Anniversaries
Appearances
[GlobalTV] JKT48 School (2012.04.15 - 2012.06.03)
[Trans7] JKT48 Mission (2013.06.23 - [Disbanded])
[RCTI] JKT48 Story (2013.08.31 - [Disbanded])
[NET TV] iClub48 (2014.10.11 - 2015.03.08)
[ANTV] Yokoso JKT48 (2014.12.14 - 2015.03.8)
[RTV] The Best of Yokoso JKT48 (2015.11.15 - 2015.12.06)
[RTV] The Ichiban (2015.12.13 - 2016.02.14)
TEEN Magazine vol.278
GADIS vol.13
HAI Magazine (Regular Appearance)
JKT48 + Pocari Sweat : Build the dream (Themesong: Heavy Rotation)
JKT48 Laurier Go With Thin (Themesong: Kimi no Koto ga Suki Dakara)
JKT48 (Dhike (as Sheep) & Cleo)
JKT48 And Rakuten Belanja Online
JKT48 - 1000% Joyful MIO J (Themesong: Aitakatta)
Nomeraka Honpo x JKT48 (なめらか本舗×JKT48) (Themesong: Heavy Rotation)
JKT48 Biore Body Foam (Themesong: Ponytail to Shushu)
JKT48 SHARP AQUOS (Themesong: Baby! Baby! Baby!)
Pocari Sweat JKT48 Dance Cover (Themesong: Heavy Rotation)
Pocky [Stick Together] (Themesong: Baby! Baby! Baby!)
Pocari Sweat Love Letter [Nakagawa Haruka center] (Themesong: Gomenne, SUMMER)
Pocari Sweat Movie [Shania Junianantha] (Themesong: Gomenne, SUMMER)
Pocari Sweat Presentation [Takajo Aki center] (Themesong: Gomenne, SUMMER)
IM3 SMS SUKA SUKA (Themesong: Oogoe Diamond)
OXY Perfect Facial Sheet (Themesong: Jatuh Cinta Setiap Bertemu Denganmu) (2ver)
Indosat IM3 PLAY JKT48 ft. Caesar (Themesong: Koi Suru Fortune Cookie)
Lip Ice ft. JKT48 (Themesong: Jatuh Cinta Setiap Bertemu Denganmu) (2version)
New Honda Brio (Themesong: RIVER)
IM3 Play Soulmate [Melody & Nabilah]
Charm Extra Dry (Themesong: Koi Suru Fortune Cookie)
Pocari Sweat GO SWEAT GO ION : Cat & Mouse (Themesong: Summer Sounds Good!)
Pocari Sweat GO SWEAT GO ION : Bergerak Bersama Pocari Sweat & JKT48 (Melody) (Themesong: Summer Sounds Good!)
Pocari Sweat GO SWEAT GO ION : Tennis (Hanna) (Themesong: Summer Sounds Good!)
Pocari Sweat GO SWEAT GO ION : Run Haruka, Run! (Haruka) (Themesong: Summer Sounds Good!)
IM3 HIPERBOLA 888 [Melody & Nabilah]
JKT48 WAKUWAKU JAPAN (Themesong: Flying Get) (2ver.)
Tolak Angin (Themesong: Koi Suru Fortune Cookie)
Kakaotalk Plus Friend
Pocky [Stick Together] (Themesong: Shoujotachi Yo -Gadis Remaja-)
JKT48 ft. Yupi "Lebaran" (Center: Cindy Yuvia)
Honda Jazz ft. JKT48 Gingham Check Senbatsu (Themesong: Gingham Check)
Advan Vandroid Gaia (JKT48 Kami8 Gingham Check)
Advan Vandroid Tablet (Haruka Nakagawa & Melody Nurramdhani Laksani intro + Gingham Check (JKT48 Single) senbatsu)
Aikatsu! Idol Academy Project ft. JKT48 3ver. (Cindy Yuvia, Nabilah Ratna Ayu Azalia, Nakagawa Haruka)
JKT48 ft. Yupi (Cindy Yuvia & Chikano Rina intro + Team KIII)
iclub48 (Jessica Veranda Tanumihardja intro + Shania Junianatha dialogue) (Themesong: Ponytail to Shushu)
iclub48 (Haruka Nakagawa dialogue)
Advan Vandroid Gaia (Themesong: Gingham Check (JKT48 Single))
JKT48 ft. Yupi (Cindy Yuvia intro)
Honda 2All New Honda BeAT for everyone (SPORTY > 8members from Team J POP > 8members from Team KIII)
LINE GET RICH (Nakagawa Haruka, Jessica Veranda Tanumihardja, Melody Nurramdhani Laksani)
Honda (Mae Shika Mukanee (JKT48 Single)'s Senbatsu)
Trivia
See Also
External Links