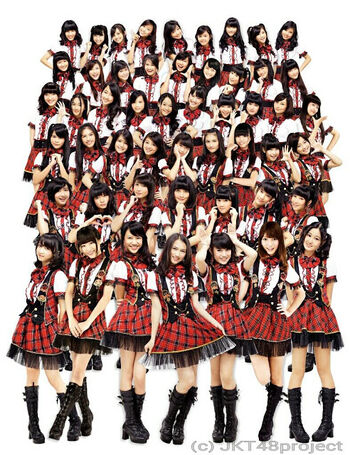 JKT48 (short for Jakarta48) is an Indonesian all-female idol group. JKT48 was created in 2011, and is the first sister group outside of Japan. The group has been performing at a theater based in Jakarta since 2012, and released their first single in 2013. Currently the group consists of two teams: Team J and Team KIII. There is also a trainee team, JKT48 Kenkyuusei.
History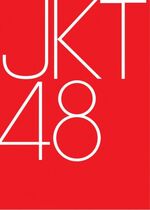 2011: Creation of the group
The formation of JKT48 was first announced on September 11, 2011 at an AKB48 event held at Makuhari Messe in Chiba. The interview for new applicants took place in late September, with the final audition for the finalist being held on October 8-9, 2011.
2012: Theater debut, creation of the 2nd Generation
On May 17, 2012, JKT48 held their first theater live performance.
JKT48's official theater opened on September 8, 2012.
On December 23, 2012, it was announced that JKT48 formed their first team, Team J, and that the single from their debut CD was set for release in January.
In late December, Ghadia Farisya announced that she would be graduating after JKT48's new setlist,Renai Kinshi Jourei. Two days later, Ghaida announced that she won't be graduating after all.
2013: Debut album released
On June 18, 2013, it was announced that Rena Nozawa to hold a concurrent position with AKB48.
On June 25, 2013, it was announced that Team KIII was formed
On July 4, 2013, it was announced the auditions for the 3rd Generation. It was also announced that they will be releasing their 3rd single, the same day as AKB48's 32nd single, it was also announced that JKT will have their own movie titled Viva JKT48.
Members
Former Members
Terms
Discography
Stage Albums
Albums
Singles
JKT48 CD Promotion
Songs
Stages
Team J
Team KII
Kenkyuusei
Events
Senbatsu Election
Anniversaries
Appearances
Movies
Magazine
TEEN Magazine vol.278
GADIS vol.13
TV Shows
Commercial
JKT48 + Pocari Sweat : Build the dream (Themesong: Heavy Rotation)
JKT48 Laurier Go With Thin (Themesong: Kimi no Koto ga Suki Dakara)
JKT48 (Dhike (as Sheep) & Cleo)
JKT48 And Rakuten Belanja Online
JKT48 - 1000% Joyful MIO J (Themesong: Aitakatta)
Nomeraka Honpo x JKT48 (なめらか本舗×JKT48) (Themesong: Heavy Rotation)
JKT48 Biore (Themesong: Ponytail to Shushu)
JKT48 SHARP AQUOS (Themesong: Baby! Baby! Baby!)
Pocari Sweat JKT48 Dance Cover (Themesong: Heavy Rotation)
Pocky [Stick Together] (Themesong: Baby! Baby! Baby!)
Pocari Sweat Love Letter [Nakagawa Haruka center] (Themesong: Gomenne, SUMMER)
Pocari Sweat Movie [Shania Junianantha] (Themesong: Gomenne, SUMMER)
Pocari Sweat Presentation [Takajo Aki center] (Themesong: Gomenne, SUMMER)
IM3 SMS SUKA SUKA (Themesong: Oogoe Diamond)
OXY Perfect Facial Sheet (Themesong: Jatuh Cinta Setiap Bertemu Denganmu)
Indosat IM3 PLAY JKT48 ft. Caesar (Themesong: Koi Suru Fortune Cookie)
Lip Ice ft. JKT48 (Themesong: Jatuh Cinta Setiap Bertemu Denganmu)
New Honda Brio (Themesong: RIVER)
IM3 Play Soulmate [Melody & Nabilah]
Charm Extra Dry (Themesong: Koi Suru Fortune Cookie)
Pocari Sweat GO SWEAT GO ION : Cat & Mouse (Themesong: Summer Sounds Good!)
Pocari Sweat GO SWEAT GO ION : Bergerak Bersama Pocari Sweat & JKT48 (Melody) (Themesong: Summer Sounds Good!)
Pocari Sweat GO SWEAT GO ION : Tennis (Hanna) (Themesong: Summer Sounds Good!)
Pocari Sweat GO SWEAT GO ION : Run Haruka, Run! (Haruka) (Themesong: Summer Sounds Good!)
IM3 HIPERBOLA 888 [Melody & Nabilah]
Tolak Angin (Themesong: Koi Suru Fortune Cookie)
Kakaotalk Plus Friend
Pocky [Stick Together] (Themesong: Gadis Remaja)
Trivia
See Also
External Links