are trainee idols from JKT48. They fill in for absent members in the theater and are promoted to official members of JKT48 to replace graduated members.
Members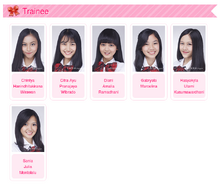 Chintya Hanindhitakirana Wirawan - 5th génération (Chintya)
Debuted
Former Research Students
Stages
Pajama Drive 「パジャマドライブ」 (JKT48 Kenkyuusei "Pajama Drive") [2012.05.17 - 2012.12.13] and [2014.05.24 - ]
Boku no Taiyou 「僕の太陽」 (JKT48 Kenkyuusei "Boku no Taiyou"/"Matahari Milikku") [2013.05.17 - 2013.06.25]
Ad blocker interference detected!
Wikia is a free-to-use site that makes money from advertising. We have a modified experience for viewers using ad blockers

Wikia is not accessible if you've made further modifications. Remove the custom ad blocker rule(s) and the page will load as expected.