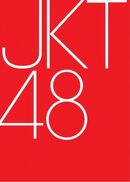 JKT48 has had a total of 103 original members during all its four generations. The group has also had two Team Kaigai members. JKT48 currently has 61 members, 5 kenkyuuseis, and 1 Team Kaigai members.
JKT48 Kenkyuusei (1st - 5th Generation)
Bolded names means the member is still active in the group.
The members' pictures are of members who are still active and are listed in accordance to the alphabetical order of members in each generation.
1st Generation
Announced November 2, 2011
Members (28): Allisa Astri, Alissa Galliamova, Ayana Shahab, Beby Chaesara Anadila, Cindy Gulla, Cleopatra, Delima Rizky, Devi Kinal Putri, Diasta Priswarini, Fahira, Frieska Anastasia Laksani, Gabriela Margareth Warouw, Ghaida Farisya, Intania Pratama Ilham, Jessica Vania, Jessica Veranda, Melody Nurramdhani Laksani, Nabilah Ratna Ayu Azalia, Neneng Rosediana, Rena Nozawa, Rezky Wiranti Dhike, Rica Leyona, Sendy Ariani, Shania Junianatha, Siti Gayatri, Sonia Natalia, Sonya Pandarmawan, Stella Cornelia
2nd Generation
Announced November 3, 2012
Members (31): Alicia Chanzia, Althea Callista, Annisa Athia, Cindy Yuvia, Della Delila, Dellia Erdita, Dena Siti Rohyati, Dwi Putri Bonita, Fakhriyani Harrya Shafariyanti, Intar Putri Kariina, Jennifer Hanna, Jennifer Rachel Natasya, Lidya Maulida Djuhandar, Nadhifa Karimah, Nadila Cindi Wantari, Natalia, Noella Sisterina, Novinta Dhini, Nurhalima Oktavianti, Octi Sevpin, Olivia Robberecht, Priscillia Sari Dewi, Ratu Vienny Fitrilya, Riskha Fairunissa, Rona Anggreani, Saktia Oktapyani, Shinta Naomi, Sinka Juliani, Thalia, Thalia Ivanka Elizabeth, Viviyona Apriani
3rd Generation
Members (32): Alycia Ferryana, Amanda Dwi Arista, Andela Yuwono, Anggie Putri Kurniasari, Aninditha Rahma Cahyadi, Ayu Safira Oktaviani, Chikita Ravenska Mamesah, Elaine Hartanto, Farina Yogi Devani, Feni Fitriyanti, Fransisca Saraswati Puspa Dewi, Indah Permata Sari, Kezia Putri Andinta, Maria Genoveva Natalia Desy Purnamasari Gunawan, Martha Graciela, Michelle Christo Kusnadi, Milenia Christien Glory Goenawan, Nadhifa Salsabila, Ni Made Ayu Vania Aurellia, Nina Hamidah, Pipit Ananda, Putri Farin Kartika, Rizka Khalila, Shani Indira Natio, Shania Gracia, Sofia Meifaliani, Stephanie Pricilla Indarto Putri, Syahfira Angela Nurhaliza, Triarona Kusuma, Yansen Indiani, Zebi Magnolia Fawwaz
4th Generation
Members (12): Adriani Elisabeth, Christi, Cindy Hapsari Maharani Pujiantoro Putri, Fidly Immanda Azzahra, Jessica Berliana Ekawardani, Jinan Safa Safira, Made Devi Ranita Ningtara, Mega Suryani, Melati Putri Rahel Sesilia, Sri Lintang, Tan Zhi Hui Celine, Zahra Yuriva Dermawan
5th Generation
Members (17): Adhisty Zara, Anggita Destiana Dewi, Chintya Hanindhitakirana Wirawan, Citra Ayu Pranajaya Wibrado, Diani Amalia Ramadhani, Elizabeth Gloria Setiawan, Eve Antoinette Ichwan, Gabryela Marcelina, Hasyakyla Utami Kusumawardhani, Helma Sonya, Nurhayati, Puti Nadhira Azalia, Regina Angelina, Rissanda Putri Tuarissa, Ruth Damayanti Sitanggang, Sania Julia Montolalu, Violeta Burhan
1st Generation
Members (2): Nakagawa Haruka, Takajo Aki
2nd Generation
Members (1): Chikano Rina
Ad blocker interference detected!
Wikia is a free-to-use site that makes money from advertising. We have a modified experience for viewers using ad blockers

Wikia is not accessible if you've made further modifications. Remove the custom ad blocker rule(s) and the page will load as expected.