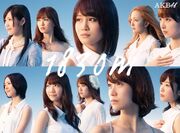 Jung ya Freud no Baai is a coupling song from AKB48's 25th single GIVE ME FIVE!, and from AKB48's second album, 1830m.
Jung ya Freud no Baai was sung by AKB48 Special Girls C.
Song Information
Artist

Kana Title

ユングやフロイトの場合

Romaji Title

YUNGU ya FUROITO no baai (Jung ya Freud no baai)

English Title

A case for Jung or Freud

Single

Album
Performing Members
External Links
Ad blocker interference detected!
Wikia is a free-to-use site that makes money from advertising. We have a modified experience for viewers using ad blockers

Wikia is not accessible if you've made further modifications. Remove the custom ad blocker rule(s) and the page will load as expected.