Junjou U-19
Released:
February 8, 2012
Genre:
J-Pop
Format:
CD Single, CD+DVD
Label:
laugh out loud record
Producer:
Akimoto Yasushi
Theater Edition

NMB48 Singles Chronology
Previous:
Oh My God!
2nd Single
(2011)
Next:
Nagiichi
4th Single
(2012)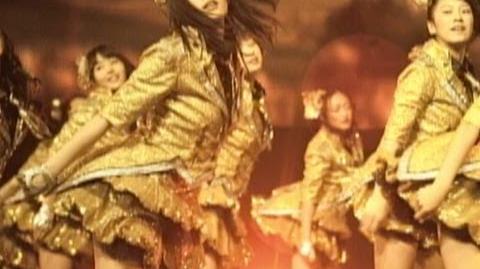 "Junjou U-19" is the 3rd single released by NMB48. It was released in four versions: Three regular CD+DVD editions (Types A, B, and C) and a limited CD-only theater edition.
Tracklist
CD
Junjou U-19 (純情 U-19)
Baatari GO! (場当たりGO!)
Doryoku no Shizuku (努力の雫)
Junjou U-19 off vocal ver. (純情 U-19 off vocal ver.)
Baatari GO! off vocal ver. (場当たりGO! off vocal ver.)
Doryoku no Shizuku off vocal ver. (努力の雫 off vocal ver.)
DVD
Junjou U-19 Music Video (純情 U-19 Music Video)
Doryoku no Shizuku Music Video (努力の雫 Music Video)
Junjou U-19 Music Video (Dance Shot ver.) (純情 U-19 Music Video (Dance Shot ver.))
First NMB48 Red-White Cooking Battle (Preliminary Round) (第1回NMB48紅白対抗料理対決(予選))
CD
Junjou U-19 (純情 U-19)
Baatari GO! (場当たりGO!)
Migi e Magare! (右へ曲がれ!)
Junjou U-19 off vocal ver. (純情 U-19 off vocal ver.)
Baatari GO! off vocal ver. (場当たりGO! off vocal ver.)
Migi e Magare! off vocal ver. (右へ曲がれ! off vocal ver.)
DVD
Junjou U-19 Music Video (純情 U-19 Music Video)
Migi e Magare Music Video (右へ曲がれ! Music Video)
Junjou U-19 Music Video (Dance Shot ver.) (純情 U-19 Music Video (Dance Shot ver.))
First NMB48 Red-White Cooking Battle (Final Round) (第1回NMB48紅白対抗料理対決(決勝))
CD
Junjou U-19 (純情 U-19)
Baatari GO! (場当たりGO!)
Renai no Speed (恋愛のスピード)
Junjou U-19 off vocal ver. (純情 U-19 off vocal ver.)
Baatari GO! off vocal ver. (場当たりGO! off vocal ver.)
Renai no Speed off vocal ver. (恋愛のスピード off vocal ver.)
DVD
Junjou U-19 Music Video (純情 U-19 Music Video)
Junjou U-19 Music Video (Dance Shot Ver.) (純情 U-19 Music Video (Dance Shot ver.))
NMB48 feat. Yoshimoto Shinkigeki Vol. 2 (NMB48 feat.吉本新喜劇 Vol.2)
Junjou U-19 Making-of (純情U-19メイキング)
Junjou U-19 (純情 U-19)
Doryoku no Shizuku (努力の雫)
Migi e Magare! (右へ曲がれ!)
Jungle Gym (ジャングルジム)
Junjou U-19 off vocal ver. (純情 U-19 off vocal ver.)
Doryoku no Shizuku off vocal ver. (努力の雫 off vocal ver.)
Migi e Magare! off vocal ver. (右へ曲がれ! off vocal ver.)
Jungle Gym off vocal ver. (ジャングルジム off vocal ver.)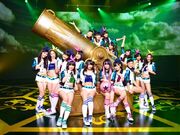 Selected Members
Team N: Ogasawara Mayu, Kadowaki Kanako, Kishino Rika, Kinoshita Haruna, Kotani Riho, Kondo Rina, Jonishi Kei, Shiroma Miru, Fukumoto Aina, Yamada Nana, Yamamoto Sayaka, Watanabe Miyuki
Artist: Under Girls (アンダーガールズ)
Team N: Shinohara Kanna, Yamaguchi Yuuki
Team M: Ota Riona, Kawakami Rena, Kodakari Yuka, Takano Yui, Tanigawa Airi, Hikawa Ayame, Fujita Runa, Mita Mao, Murakami Ayaka, Murase Sae, Yamagishi Natsumi
Artist: Shirogumi (白組)
Artist: Akagumi (紅組)
Artist: NMB Seven (NMBセブン)
Oricon Chart Positions
Mon
Tue
Wed
Thu
Fri
Sat
Sun
Week Rank
Sales
-
#1
280,367
#1
18,903
#2
7,238
#1
5,172
#1
11,005
#1
3,272
#1
329,438
#1
1,631
#8
#6
#3
3,526
#6
#8
#6
#5
14,707
#3
1,230
#23
#24
#22
#16
#17
#18
#18
5,660
#12
x
x
x
x
x
x
#31
3,038
#18
x
x
x
x
x
x
unknown sales
for this week
#2
10,706
x
x
x
x
x
x
#9
11,684
x
x
x
x
x
x
x
x
1,121
x
x
x
x
x
x
x
#34
2,080
Total Reported Sales: 376,302*