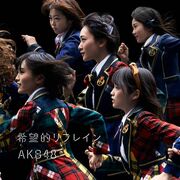 Juujun na Slave is a coupling song from AKB48's 38th single Kibouteki Refrain, by Team A.
Information
Artist

Kanji Title

従順なSlave

Romaji Title

Juujun na Slave

English Title

-

Single
Performing Members
Team A: Ichikawa Manami, Iriyama Anna, Ino Miyabi, Iwata Karen, Kawaei Rina, Kojima Natsuki, Kojima Haruna, Shimazaki Haruka, Takahashi Minami, Takita Kayoko, Tatsuya Makiho, Taniguchi Megu, Nakata Chisato, Nakanishi Chiyori, Nakamura Mariko, Nishiyama Rena, Fujita Nana, Furuhata Nao, Maeda Ami, Matsui Sakiko, Miyawaki Sakura, Muto Tomu, Morikawa Ayaka, Yagura Fuuko
External Links
Ad blocker interference detected!
Wikia is a free-to-use site that makes money from advertising. We have a modified experience for viewers using ad blockers

Wikia is not accessible if you've made further modifications. Remove the custom ad blocker rule(s) and the page will load as expected.