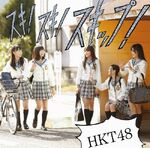 Kataomoi no Karaage is a HKT48's song that included in HKT48 1st Single, Suki! Suki! Skip! as coupling song of Type A.
Information
Artist

Kanji Title

片想いの唐揚げ

Romaji Title

Kataomoi no Karage

Songwriter

秋元康 Akimoto Yasushi

Composer

山本加津彦 Yamamoto Katsuhiko

Arranger

武藤星児 Mutou Seiji

Original Center

Bibliography

HKT48「スキ!スキ!スキップ!<通常盤Type-A>」のブックレット、UNIVERSAL SIGMA、2013年 JAN 4988005747150 / UMCK-5417
Performing Members
Amakuchi Hime
Singing Line
Ranking
AKB48
Request Hour 2014 - #45
Request Hour 2015 - #125
Trivia
This song used to be ending theme for the Japanese version of My Little Pony
土屋隆俊 (Tsuchiya Takatoshi) is the director of the MV
Ad blocker interference detected!
Wikia is a free-to-use site that makes money from advertising. We have a modified experience for viewers using ad blockers

Wikia is not accessible if you've made further modifications. Remove the custom ad blocker rule(s) and the page will load as expected.