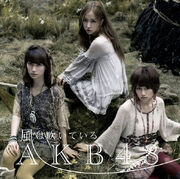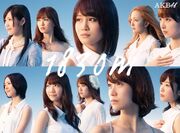 Kaze wa Fuiteiru is the main song from AKB48's 23th single Kaze wa Fuiteiru, by Senbatsu.
Kaze wa Fuiteiru is also a song from AKB48's 2nd album 1830m.
Information
Artist

Kana Title

風は吹いている

Romaji Title

Kaze wa Fuiteiru

English Title

The Wind is Blowing

Chinese Title

生命之风

Pinyin Title

Shēngmìng zhī fēng

Single

Album
Performing Members
AKB48
SNH48
AKB48 Request Hour
Concert Performances
External Links
Ad blocker interference detected!
Wikia is a free-to-use site that makes money from advertising. We have a modified experience for viewers using ad blockers

Wikia is not accessible if you've made further modifications. Remove the custom ad blocker rule(s) and the page will load as expected.