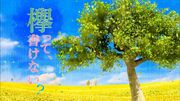 Keyaki tte, Kakenai? (欅って、書けない?  Keyaki tte, Kakenai??) is the signature variety program of Keyakizaka46. Aside from the usual variety segments, the senbatsu selections are also aired in this program, similar to their sister group's programs: Nogizaka Under Construction, and it's predecessor, Nogizakatte, Doko?.
External Links
Ad blocker interference detected!
Wikia is a free-to-use site that makes money from advertising. We have a modified experience for viewers using ad blockers

Wikia is not accessible if you've made further modifications. Remove the custom ad blocker rule(s) and the page will load as expected.