Kizuitara Kataomoi

Single by Nogizaka46
Type A Cover




Single by Nogizaka46
Type B Cover

Single by Nogizaka46
Type C Cover

Released:
April 2, 2014
Genre:
J-Pop
Format:
CD Single, CD+DVD
Label:
Sony Music Entertainment Japan
Producer:
Akimoto Yasushi
CD Only

Nogizaka46 Singles Chronology
Previous:
Barrette
7th Single
(2013)
Next:
Natsu no Free & Easy
9th Single
(2014)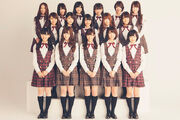 Kizuitara Kataomoi (気づいたら片想い  When I Realized, My Love was Unrequited?) is Nogizaka46's 8th Single.
Single Tracklist
Performing Members
Senbatsu (Nishino Nanase center)
(members in italic are Go Fukujin)
1st Generation: Nishino Nanase, Shiraishi Mai, Hashimoto Nanami, Ikoma Rina, Ikuta Erika, Wakatsuki Yumi, Matsumura Sayuri, Sakurai Reika, Fukagawa Mai, Higuchi Hina, Akimoto Manatsu, Wada Maaya, Kawamura Mahiro, Takayama Kazumi
Under Members (Ito Marika center)
1st Generation: Ichiki Rena, Ito Marika, Ito Nene, Inoue Sayuri, Eto Misa, Kawago Hina, Saito Asuka, Saito Chiharu, Saito Yuri, Nagashima Seira, Nakada Kana, Nakamoto Himeka, Noujo Ami, Hatanaka Seira, Hoshino Minami, Yamato Rina
Ad blocker interference detected!
Wikia is a free-to-use site that makes money from advertising. We have a modified experience for viewers using ad blockers

Wikia is not accessible if you've made further modifications. Remove the custom ad blocker rule(s) and the page will load as expected.