Ad blocker interference detected!
Wikia is a free-to-use site that makes money from advertising. We have a modified experience for viewers using ad blockers

Wikia is not accessible if you've made further modifications. Remove the custom ad blocker rule(s) and the page will load as expected.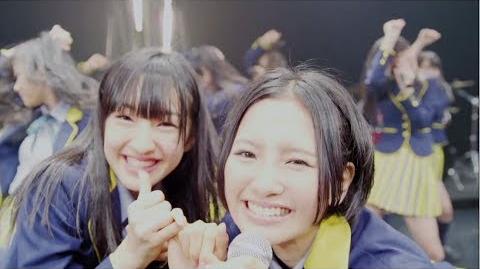 "Melon Juice" is the second single released by HKT48. It will be released on September 4, 2013. It was released in 4 editions: 3 CD+DVDs and a CD only theatre edition. The CD+DVD editions included National Handshake event tickets.
Tracklist
Melon Juice
Soko Nani wo Kangaeru ka?
Kibou no Kairyuu - Amakuchi-hime
Melon Juice Off-Vocal
Soko Nani wo Kangaeru ka? Off-Vocal
Kibou no Kairyuu Off-Vocal
Melon Juice - Video Clip
Kibou no Kairyuu - Video Clip
Bonus Video: Summer Holidays
Melon Juice
Soko de Nani wo Kangaeru ka?
Doro no Metronome - Umakuchi-hime
Melon Juice Off-Vocal
Soko de Nani wo Kangaeru ka? Off-Vocal
Doro no Metronome Off-Vocal
Melon Juice - Clip Video
Doro no Metronome - Clip Video
Bonus Video: Summer Holidays
Melon Juice
Soko Nani wo Kangaeru ka?
Namioto no Orugouru
Melon Juice (Off-Vocal
Soko Nani wo Kangaeru ka? Off-Vocal
Namioto no Orugouru Off-Vocal
Melon Juice - Video Clip
Making of Melon Juice - Video Clip
Bonus Video: Summer Holidays
Melon Juice
Soko Nani wo Kangaeru ka?
Tenmon-bu no Jijou
Melon Juice Off-Vocal
Soko Nani wo Kangaeru ka? Off-Vocal
Tenmon-bu no Jijou Off-Vocal
Included Members
Senbatsu (選抜) (16 Members)

(Center: Miyawaki Sakura)
Team H: Ueki Nao, Ota Aika, Shimono Yuki, Miyawaki Sakura, Murashige Anna, Motomura Aoi, Wakatabe Haruka
Kenkyuusei: Umemoto Izumi, Tashima Meru, Tanaka Yuka, Tomonaga Mio, Yamada Marina
(Center: Kodama Haruka)
Team H: Anai Chihiro, Kumazawa Serina, Kodama Haruka, Sashihara Rino, Tanaka Natsumi, Nakanishi Chiyori, Matsuoka Natsumi, Moriyasu Madoka
Kenkyuusei: Imada Mina, Goto Izumi, Komada Hiroka, Sakaguchi Riko
Oricon Chart Positions
Mon
Tue
Wed
Thu
Fri
Sat
Sun
Week Rank
Sales
-
#1
222,984
#2
18,417
#1
8,089
#2
5,889
#1
5,213
#2
3,750
#1
268,897
#1
2,098
x
x
x
x
x
x
x
xx,xxx
x
x
x
x
x
x
x
x
xx,xxx
x
x
x
x
x
x
x
x
x,xxx
Total Reported Sales: 268,897