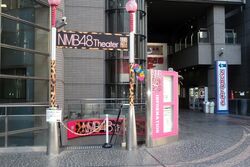 NMB48 Theater (NMB48劇場), is where NMB48 hold their theater performances almost everyday. The theater is located in an underground venue in Namba, Osaka. It is the only AKB48 Group to be located underground, and was formerly a comedy theater called base YOSHIMOTO. The current manager of the NMB48 theater is Kaneko Takeshi.
Current Stages
Team N
Team M
Team BII
Kenkyuusei
Past Stages
Team N
Ad blocker interference detected!
Wikia is a free-to-use site that makes money from advertising. We have a modified experience for viewers using ad blockers

Wikia is not accessible if you've made further modifications. Remove the custom ad blocker rule(s) and the page will load as expected.