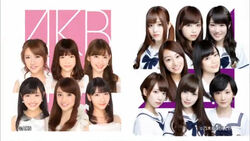 "...to prove if it's possible for Nogizaka46 to become national idols if they experience the things AKB48 have done, this is an experimental variety show..."
―NOGIBINGO! Introduction(src)
NOGIBINGO! (ノギビンゴ!  NOGIBINGO!?) is a TV Program of Nogizaka46, emulating AKB48's AKBINGO!.
MC

Ijiri Okada

Participating Members
Episode Synopsis
External Link
Ad blocker interference detected!
Wikia is a free-to-use site that makes money from advertising. We have a modified experience for viewers using ad blockers

Wikia is not accessible if you've made further modifications. Remove the custom ad blocker rule(s) and the page will load as expected.