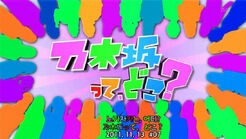 Nogizakatte, Doko? (乃木坂って、どこ?  Nogizakatte, Doko??) is Nogizaka46's TV show hosted by the Bananaman comedy duo, Osamu Shitara and Yuki Himura. The show usually feature the members' Senbatsu Selections and several other segments.
Appearances
Regular Segments
Singles' Senbatsu Selection
Singles' PR Campaign
Cosplay and Moe Phrase Contest (Last Week of October)
Dokkiri Events (Last Week of March)
Episode Guide
Related Topics
External Link
Ad blocker interference detected!
Wikia is a free-to-use site that makes money from advertising. We have a modified experience for viewers using ad blockers

Wikia is not accessible if you've made further modifications. Remove the custom ad blocker rule(s) and the page will load as expected.