Ad blocker interference detected!
Wikia is a free-to-use site that makes money from advertising. We have a modified experience for viewers using ad blockers

Wikia is not accessible if you've made further modifications. Remove the custom ad blocker rule(s) and the page will load as expected.
Oogoe Diamond
Released:
October 22, 2008
Genre:
J-Pop
Format:
CD Single, CD+DVD
Label:
You, Be Cool!/KING RECORDS
Producer:
Akimoto Yasushi
AKB48 Promoting Single

AKB48 Singles Chronology
Previous:
Baby! Baby! Baby!
9th Single
(2008)
Next:
10nen Zakura
11th Single
(2009)
Oogoe Diamond (大声ダイヤモンド; Diamond Shout) is AKB48's tenth single, and the first under KING RECORDS' You, Be Cool! label. This is also their first single to feature a member from SKE48. It was released in two versions: a regular edition and a theater edition, both with a DVD. First press edition included one of 19 types of alternative jacket. Oogoe Diamond was used as the ending theme for the dorama Mendol ~Ikemen Idol~.
Motto
「大声で叫べば、ダイヤモンドになる」 ("Oogoe de Sakebeba, Diamond ni naru")
Translation: "if you scream aloud, it will turn into a Diamond"
Tracklist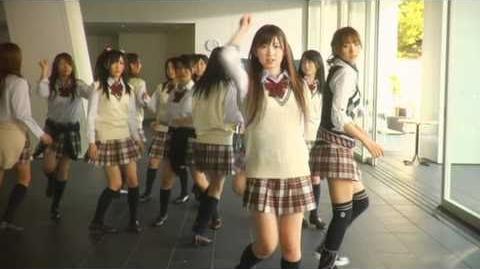 CD
Oogoe Diamond (大声ダイヤモンド; Diamond Shout)
109 (マルキュー; Marukyuu)
Oogoe Diamond (大声ダイヤモンド) / Team A
Oogoe Diamond (大声ダイヤモンド) / Team B
DVD
Oogoe Diamond (大声ダイヤモンド) (MUSIC CLIP)
Making
CD
Oogoe Diamond (大声ダイヤモンド)
109 (マルキュー; Marukyuu)
Oogoe Diamond (大声ダイヤモンド) / Team K
Oogoe Diamond (大声ダイヤモンド) / Kenkyuusei
Oogoe Diamond (大声ダイヤモンド) / SKE48
DVD
Oogoe Diamond (大声ダイヤモンド) (MUSIC CLIP)
Kokuhaku Eizou (告白映像)
SKE48 no Kiseki (SKE48の軌跡)
Selected Members
Senbatsu (20 Members, Members bloded are part of Front Girls of this single, Maeda Atsuko and Matsui Jurina Centers)
Oogoe Diamond (Team A ver.)
Oogoe Diamond (Team K ver.)
Oogoe Diamond (Team B ver.)
Oogoe Diamond (Kenkyusei ver.)
Oogoe Diamond (SKE48 ver.)
Inagaki Honami, Oya Masana, Ozeki Kiharu, Ono Haruka, Kuwabara Mizuki, Sato Seira, Sato Mieko, Shibaki Aiko, Shinkai Rina, Suzuki Kirara, Takai Tsukina, Takada Shiori, Deguchi Aki, Nakanishi Yuka, Hirata Rikako, Hiramatsu Kanako, Maekawa Aika, Matsui Jurina, Matsui Rena, Matsushita Yui, Mori Sayuki, Yamashita Moe
TV Performances
[2008.10.24] Music Fighter
[2011.08.26] Music Station
[2013.01.01] CDTV Countdown Live
Sales Information
Oricon Chart-Run
Date
Mon
Tue
Wed
Thu
Fri
Sat
Sun
Week
Sales
08.10.20
**
3
14,384
3
7,014
3
5,942
3
6,008
3
8,299
3
6,538
3
48,258
08.10.27
3
73
24
22
22
*4
10
*8
*11
*10,248
08.11.03
32
**
13
17
14
42
22
*22
**5,635
08.11.10
**
**
**
**
**
**
**
*74
**1,366
08.11.17
**
**
**
**
**
**
**
110
***,768
08.11.24
**
**
**
**
**
**
**
131
***,866
08.12.01
**
**
**
**
**
**
**
166
***,575
08.12.08
**
**
**
**
**
**
**
175
***,489
08.12.15
**
**
**
**
**
**
**
182
***,434
08.12.22
**
**
**
**
**
**
**
197
***,752
09.12.29
**
**
**
**
**
**
**
09.01.05
**
**
**
**
**
**
**
158
***,375
09.01.12
**
**
**
**
**
**
**
190
***,227
OUT
6 weeks
09.03.02
**
**
**
**
**
**
**
181
***,414
09.03.09
**
**
**
**
**
**
**
177
***,177
09.03.16
**
**
**
**
**
**
**
188
***,315
OUT
1 week
09.03.30
**
**
**
**
**
**
**
179
***,335
OUT
13 weeks
09.07.06
**
**
**
**
**
**
**
193
***,309
09.07.13
**
**
**
**
**
**
**
187
***,273
09.07.20
**
**
**
**
**
**
**
198
***,292
OUT
4 weeks
09.08.24
**
**
**
**
**
**
**
172
***,431
09.08.31
**
**
**
**
**
**
**
165
***,377
09.09.07
**
**
**
**
**
**
**
191
***,289
09.09.14
**
**
**
**
**
**
**
169
***,307
09.09.21
**
**
**
**
**
**
**
166
***,310
09.09.28
**
**
**
**
**
**
**
172
***,295
09.10.05
**
**
**
**
**
**
**
199
***,235
09.10.12
**
**
**
**
**
**
**
198
***,151
09.10.19
**
**
**
**
**
**
**
186
***,331
09.10.26
**
**
**
**
**
**
**
158
***,342
09.11.02
**
**
**
**
**
**
**
168
***,336
09.11.09
**
**
**
**
**
**
**
187
***,274
OUT
3 weeks
09.12.07
**
**
**
**
**
**
**
193
***,315
09.12.14
**
**
**
**
**
**
**
191
***,317
09.12.21
**
**
**
**
**
**
**
142
***,464
09.12.28
**
**
**
**
47
**
44
*58
**2,021
10.01.04
**
**
**
44
43
**
**
10.01.11
**
**
**
**
**
**
**
*73
***,868
10.01.18
**
**
**
**
**
**
**
*92
***,730
10.01.25
**
**
**
**
**
**
**
125
***,724
10.02.01
**
**
**
**
**
**
**
121
***,572
10.02.08
**
**
**
**
**
**
**
146
***,497
10.02.15
**
**
**
**
**
**
**
101
***,716
10.02.22
**
**
**
**
**
**
**
136
***,550
10.03.01
**
**
**
**
**
**
**
168
***,402
10.03.08
**
**
**
**
**
**
**
166
***,357
10.03.15
**
**
**
**
**
**
**
171
***,302
10.03.22
**
**
**
**
**
**
**
183
***,301
10.03.29
**
**
**
**
**
**
**
137
***,363
10.04.05
**
**
**
**
**
**
**
118
***,431
10.04.12
**
**
**
**
**
**
**
128
***,370
10.04.19
**
**
**
**
**
**
**
169
***,316
10.04.26
**
**
**
**
**
**
**
173
***,321
10.05.03
**
**
**
**
**
**
**
169
***,323
OUT
2 weeks
10.05.24
**
**
**
**
**
**
**
170
***,405
10.05.31
**
**
**
**
**
**
**
187
***,325
OUT
1 week
10.06.14
**
**
**
**
**
**
**
175
***,320
OUT
3 weeks
10.07.12
**
**
**
**
**
**
**
182
***,264
10.07.19
**
**
**
**
**
**
**
194
***,312
OUT
3 weeks
10.08.16
**
**
**
**
**
**
**
184
***,301
OUT
4 weeks
10.09.20
**
**
**
**
**
**
**
188
***,294
OUT
3 weeks
10.10.18
**
**
**
**
**
**
**
193
***,238
OUT
2 weeks
10.11.08
**
**
**
**
**
**
**
200
***,288
OUT
5 weeks
10.12.20
**
**
**
**
**
**
**
179
***,346
10.12.27
**
**
**
**
**
**
**
110
***,492
11.01.03
**
**
**
**
**
**
**
*74
***,812
11.01.10
**
**
**
**
**
**
**
*76
***,718
11.01.17
**
**
**
**
**
**
**
*92
***,634
11.01.24
**
**
**
**
**
**
**
131
***,535
11.01.31
**
**
**
**
**
**
**
137
***,510
11.02.07
**
**
**
**
**
**
**
153
***,384
11.02.14
**
**
**
**
**
**
**
138
***,456
11.02.21
**
**
**
**
**
**
**
183
***,362
OUT
2 weeks
11.03.14
**
**
**
**
**
**
**
190
***,198
11.03.21
**
**
**
**
**
**
**
186
***,233

Total Reported Sales: 216,415*
Total Sales in 2008: 68,639
Total Sales in 2009: 8,243
Total Sales in 2010: 13,749
Total Sales in 2011: 125,784*
Total of weeks charting inside Top 200: 75
Chart Records (Oricon)
7th best-selling single of October 2008.
109th best-selling single of 2008.
first AKB48 single to rank in Oricon's Top 3 in both Weekly and Daily Categories.
longest charting AKB48 single with over 70 weeks in Oricon's top 200 as of 2011.
this single outsold all the previous AKB48 singles only in its first week with the exception of Sakura no Hanabiratachi. (single that was eventually outsold in the following weeks)
Achievements
Oogoe Diamond - 6th Music Video to reach 20,000,000 views on YouTube
Trivia
first and only time so far when the Theater Edition was released as a CD+DVD instead of CD Only.
first AKB single where only 1 member is featured in the covers.
last time single songs were included in a stage (both Oogoe Diamond and 109 were included in A5)
following BINGO! and Sakura no Hanabiratachi 2008, this was the 3rd time all the AKB48 members appeared in a single's PV.
in the regular edition cover, it was revealed in a special footage from "Pareo wa Emerald" that Matsui Jurina was shouting "Mariko-sama" during the shoot.[1]
Maeda Atsuko was supposed to be the one in the covers, but it was changed to have Matsui Jurina
Notes
Videos