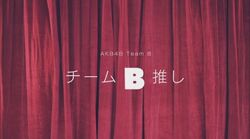 Oshimen (推しメン  Oshimen?) is a term used to describe a fan's #1 favorite member. In AKB48 Group and Nogizaka46, a fan may have a different oshimen for each sister group, team, subunit or generation; or may only support a single person overall.

Ad blocker interference detected!
Wikia is a free-to-use site that makes money from advertising. We have a modified experience for viewers using ad blockers

Wikia is not accessible if you've made further modifications. Remove the custom ad blocker rule(s) and the page will load as expected.