Ad blocker interference detected!
Wikia is a free-to-use site that makes money from advertising. We have a modified experience for viewers using ad blockers

Wikia is not accessible if you've made further modifications. Remove the custom ad blocker rule(s) and the page will load as expected.
RIVER
Released:
May 11, 2013
Genre:
J-Pop
Format:
CD Single, CD+DVD
Label:
HITS Records
Producer:
Akimoto Yasushi
JKT48 Promoting Single

JKT48 Singles Chronology
Next:
Yuuhi wo Miteiru ka?
2nd Single
(2012)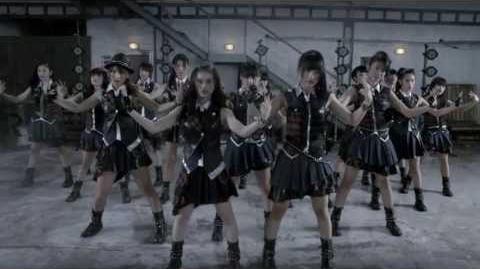 "RIVER" is the debut single released by JKT48. It was released in two editions: three CD+DVDs and a CD only theatre edition.
Tracklist
Regular Edition Details
CD
DVD
RIVER PV
RIVER Making Video Behind the Scenes
Mirai no Kajitsu Behind the Scenes
Theater Edition Details
CD
RIVER / Senbatsu
Sakura no Shiori / Team J
Mirai no Kajitsu / Kenkyuusei
Included Members
Senbatsu (16 Members) (Melody Nurramdhani Laksani & Devi Kinal Putri)
Team J: Nakagawa Haruka, Devi Kinal Putri, Jessica Vania Widjaja, Rena Nozawa, Gabriela Margareth Warouw, Melody Nurramdhani Laksani, Rica Leyona, Nabilah Ratna Ayu Azalia, Takajo Aki, Delima Rizky, Shania Junianatha, Jessica Veranda Hardja, Ayana Shahab, Rezky Wiranti Dhike, Stella Cornelia, Beby Chaesara Anadila
Team J selection members (16 Members)
Team J: Ayana Shahab, Beby Chaesara Anadila, Cindy Gulla, Delima Rizky, Devi Kinal Putri, Gabriela Margareth Warouw, Ghaida Farisya, Nakagawa Haruka, Jessica Vania Widjaja, Jessica Veranda Hardja, Melody Nurramdhani Laksani, Nabilah Ratna Ayu Azalia, Rena Nozawa, Rezky Wiranti Dhike, Sendy Ariani, Shania Junianatha
Trivia