SKE48 (short for Sakae48) is a Japanese Idol Group produced by Akimoto Yasushi. They are the 1st sister group of AKB48. The group has their own theater in Sunshine Sakae, in Nagoya (Aichi Prefecture). The 1st generation members were announced on July 30, 2008, debuting on October 5, 2008. The debut single of the group, Tsuyokimono yo, was released on August 5, 2009. They are currently signed under avex trax, originally from Nippon Crown Records.
History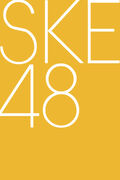 In the summer of 2008, Akimoto Yasushi started his plan to expand AKB48 to the entire country of Japan by starting in Nagoya. 22 members were chosen and 15 of these girls debuted with former AKB48 Kenkyuusei Nakanishi Yuuka as Team S. 11 year old Matsui Jurina was chosen as senbatsu and center for AKB48's 10th major single Oogoe Diamond, and SKE48 started performing regularly in the SUNSHINE SAKAE theater. Even before they could release a single, Suzuki Kirara of Team S graduated in November 2008 having only to perform their first stage.
In April 2009, 23 new girls were chosen as the candidates for the new SKE48 team, KII. 1st generation kenkyuusei Sato Seira and Team S member Sato Mieko were chosen to join Team KII and Mori Sayuki was added to Team S.
In August 2009, SKE48 released their first single Tsuyokimono yo on Lantis. It did not have senbatsu, and instead featured Team S on the A-side and Team KII as the B-side. Shortly after this Team S lost another member, Takai Tsukina graduated citing to focus on her studies.
In November 2009, a third generation was announced and 13 members were added to Kenkyuusei.
In December 2009, Maeda Eiko from Team KII transferred to the newly debuted sister group, SDN48 for idols who are above 18 years old. Also in this time, Yamashita Moe graduated from the group to become a graphic artist.
In February 2010, SKE48 Kenkyuusei began performing regularly in the theater.
In March 2010, SKE48 released its first single on CROWN GOLD. It featured a 7 person senbatsu. Also in March, 1st generation members Mori Sayuki and Shinkai Rina were demoted to Kenkyuusei, eventually to graduate in May 2010.
SKE48's 4th generation debuted in September 2010. 16 new Kenkyuusei were added to the group, bringing the total number of Kenkyuusei to 26.
On December 6, 2010, SKE48 announced the creation of Team E, using 16 kenkyuusei. 4 members of Team KII, Iguchi Shiori, Uchiyama Mikoto, Kit Momona and Saito Makiko were moved to Kenkyuusei. 4 remaining members of Kenkyuusei, Abiru Riho, Goto Risako, Hata Sawako and Yakata Miki were moved to Team KII. This was also the first time that SKE48 reached its goal of 48 official members.
On May 28, 2011, SKE48 announced that they were changing record labels to avex trax and their first single under their new label, Pareo wa Emerald would be released on July 27, 2011.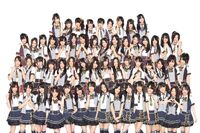 On January 15, 2012, SKE48 members Kuwabara Mizuki, Takada Shiori, Hiramatsu Kanako (Team S), Akaeda Ririna, Ogiso Shiori (Team KII), Ueno Kasumi, Hara Minami (Team E) and Kobayashi Emiri (Kenkyuusei) will be graduating from the group.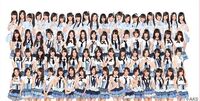 On April 12, 2013, SKE48 had their 1st Team Shuffle (Sokaku) during 1st day of thier solo live concert series.
On August 19, 2013, it was announced that SKE48 to hold their first independent concert at Nagoya Dome. During the encore, SKE48 Theater manager Shiba Tomoya appeared on stage and announced via VTR that the group would be holding lives on October 26th at Kobe World Memorial Hall and on December 6th at Yokohama Arena. After a short pause, the screen projected 'SKE48 Independent Concert Nagoya Dome 2014.2.2 (Sun)'.
On February 24, 2014 it was announced that Rena Matsui would hold a concurrent position with Nogizaka46 after teams were reorganized and kenkyusei members were promoted to full members.[11] Concurrent member with SKE48 and AKB48 Mina Ōba was fully transferred to SKE48 Team KII and other members from AKB48, NMB48, and HKT48 were permanently transferred or given concurrent positions within SKE48. Former Team K member Miyazawa Sae was transferred from SNH48 and appointed the new leader of Team S.
On March 15, 2015, the members who passed the 7th Generation audition were revealed.
Members

|-|

Singles=

|-|

DVDs=

|-|

Other=

}}
Stages
Team S
[2008.10.05 - 2009.02.08] Team S 1st Stage "PARTY ga Hajimaru yo" (チームS 1st「PARTYが始まるよ」)
[2009.02.14 - 2009.10.16] Team S 2nd Stage "Te wo Tsunaginagara" (チームS 2nd Stage「手をつなぎながら」)
[2009.10.25 - 2013.07.10 & 2014.04.25 - 2016.06.07] Team S 3rd Stage "Seifuku no Me" (チームS 3rd Stage「制服の芽」)
[2013.07.23 - 2013.04.21] Team S 4th Stage "RESET" (チームS 4th Stage「RESET」)
[2016.06.14 - ...] Team S 5th Stage "Kasaneta Ashiato" (チームS 5th Stage 「重ねた足跡」)
Team KII
[2009.06.13 - 2009.11.29] Team KII 1st Stage "Aitakatta" (チームKII 1st 「会いたかった」)
[2009.12.06 - 2010.09.22] Team KII 2nd Stage "Te wo Tsunaginagara" (チームKII 2nd Stage「手をつなぎながら」)
[2011.10.01 - 2013.07.12 & 2014.04.30 -...] Team KII 3rd Stage "Ramune no Nomikata" (チームKII 3rd Stage「ラムネの飲み方」)
[2013.07.25 - 2014.04.18] Team KII 4th Stage "Theater no megami" (チームKII 4th Stage「シアターの女神」)
[2016] Team KII 5th Stage "0 Start"
Team E
[2011.01.16 - 2012.03.28] Team E 1st Stage "Pajama Drive" (チームE 1st 「パジャマドライブ」)
[2012.05.14 - 2013.07.11] Team E 2nd Stage "Saka Agari" (チームE 2nd 「逆上がり」)
[2013.07.24 - 2014.04.22] Team E 3rd Stage "Boku no Taiyou" (チームE 3rd「僕の太陽」)
[2014.05.02 -...] Team E 4th Stage "Te wo Tsunaginagara" (チームE  4th 「手をつなぎながら」)
Kenkyuusei
[2010.02.16 - 2012.08.12] SKE Kenkyuusei 1st Stage "PARTY ga Hajimaru yo"

「PARTYが始まるよ」

[2012.02.27 - 2013.12.23] SKE Kenkyuusei 2nd Stage "Aitakatta"「会いたかった」

[2014.01.05 - ...] 

SKE Kenkyuusei 3rd Stage "Seifuku no Me"「制服の芽」

[TBA] SKE Kenkyuusei 4th Stage "Upcoming Stage - Summer"
AKB48 Events
SKE48 Events
Request Hour
Anniversary
TV and Cinema
Television
SKE48 学園 (SKE48 Gakuen)
知って解決!SKEっとネット (Shitte Kaiketsu! SKEtto Net)
でらSKE~夜明け前の国盗り48番勝負 (Dera SKE ~ Yoake Mae no Kuni Tori 48-ban Shoubu)
アナアナ商会 (Anna Anna Shoukai)
[2011.xx.xx] Itte Koi 48 (イッテ恋48)
Dramas
Movies
Publications
Books
[2009.10.07] SKE48 Complete Book 〜2008→2009〜
[2009.??.??] SKE48 チームS 3rd「制服の芽」公演公式ガイドブック (SKE48 Team S 3rd Stage "Seifuku no Me" Official Performance Guidebook)
[2010.09.17] SKE48学院修学旅行 (1週間MOOK)
[2010.10.01] 神曲の時間 SKE48リクエストアワーセットリストベスト30 2010 ~神曲はどれだ~ LIVE PHOTO BOOK
[2010.12.10] SKE48 COMPLETE BOOK 2010-2011
Magazines
[2010.03.xx] Yan Yan Vol.11 (Feature)
[2010.11.xx] Yan Yan Vol.17 (Feature)
[2010.12.xx] Artist File BIG ONE GIRLS No.4 (Feature)
[2011.09.xx] girls! Vol.33 (Feature)
Number of current members
(as of April 21, 2017)
| Team | Members | Notes |
| --- | --- | --- |
| S | 16 | Takeuchi Mai (Announced graduation) |
| KII | 19 | Ishida Anna (Announced graduation) |
| E | 16 | |
| KKS | 20 | |
| Total | 71 | - |
Ad blocker interference detected!
Wikia is a free-to-use site that makes money from advertising. We have a modified experience for viewers using ad blockers

Wikia is not accessible if you've made further modifications. Remove the custom ad blocker rule(s) and the page will load as expected.