SHN48 (short for Shanghai48) is a Chinese all-female idol group. The group performs at a theater based in Shanghai, and is the second currently active AKB48 sister group outside of Japan. Currently the group consists of three teams: Team SII, Team NII, and Team HII. In addition, the group also has trainees called kenkyuusei.
Information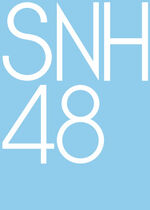 SNH48 is based on city of Shanghai, China. SNH48 is the seventh AKB48 sister group and the third abroad sister group, following JKT48 and TPE48 (who haven't debuted yet). SNH48 follows the same concept of AKB48, that is "the idol that you can meet" (Chinese: 可面对面的偶像). SNH48 is the first AKB48 sister group in China, even though AKB48 has a large fan base in China.
The 26 first generation members of SNH48 were announced on October 15. Joining those 26 members are AKB48's Miyazawa Sae and Suzuki Mariya, who are currently taking part in AKB48's overseas temporary transfer program.
SNH48 were due to debut on December 8 2012, the same day as AKB48's 7th Year Anniversary, however it is now unknown when SNH48 will debut.
Two First Generation members; Hu MeiTing and Yu TingEr resigned from the group in December, 2012.
They will have their theater debut in Spring 2013.
On June 13, 2013, they released their first EP titled Heavy Rotation
On July 28, 2013, it was announced that they will bee releasing their 2nd EP on August 2, 2013, titled, Flying Get
On the end of July, the theater was completed.
On July 31, 2013, 2nd Generation Auditions started.
On August 18, 2013, the 2nd Generation members were announced.
On August 30, 2013, it was announced that Miyazawa Sae and Suzuki Mariya, will start performing with SNH48 in October.
On September 30, 2013, it was announced that Miyazawa Sae and Suzuki Mariya, will have their first performance with SNH on October 11, 12, and 13.
On November 5, 2013, it was announced that they will form two teams, Team SII and Team NII, they will announce the members and captains on November 11.
Members
Teams
Terms
Discography
Albums
EPs
Songs
Stages
Team SII
Team NII
Team HII
Kenkyuusei
SNH48 Events
Senbatsu Election
Request Hour
Kouhaku Utagassen
Sister Groups