SNH48 1st General Elections

SNH48 1st General Elections
Vital Information
Participants
SNH48
Date
July 26, 2014
Location
China
SNH48 1st General Elections (SNH48第一届总选举,  SNH48 Diyi Jie Zongxuanju?) is the first Senbatsu Sousenkyo to be held by SNH48, one of AKB48's overseas Sister Groups.
Line-Up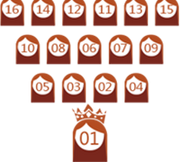 Preliminaries
Final Results
1st Day Results
Participating Members
External Link
Ad blocker interference detected!
Wikia is a free-to-use site that makes money from advertising. We have a modified experience for viewers using ad blockers

Wikia is not accessible if you've made further modifications. Remove the custom ad blocker rule(s) and the page will load as expected.