Ad blocker interference detected!
Wikia is a free-to-use site that makes money from advertising. We have a modified experience for viewers using ad blockers

Wikia is not accessible if you've made further modifications. Remove the custom ad blocker rule(s) and the page will load as expected.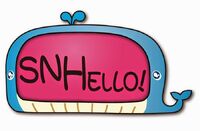 SNHELLO! is an online variety show featuring members of SNH48. The full title of the show is SNHELLO! Idol Academy (SNHello星萌学院  Xīng Méng Xuéyuàn?). The show's MC is Aji (阿吉  Ājí?) and is co-hosted by a different SNH48 member each episode. It follows the same format as AKBINGO!.
Air Date

July 25, 2014

Co-Host

[[]]
Air Date

August 1, 2014

Co-Host

[[]]
Air Date

August 15, 2014

Co-Host
Air Date

August 22, 2014

Co-Host
Air Date

August 29, 2014

Co-Host

[[]]
Air Date

September 5, 2014

Co-Host

[[]]
Air Date

September 12, 2014

Co-Host

[[]]