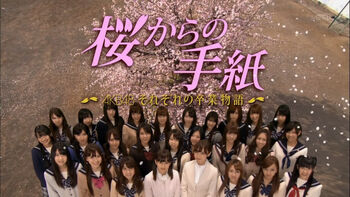 Sakura kara no Tegami (桜からの手紙,  Letters from a Sakura?) is a Japanese drama that mainly features members of the Idol group AKB48. The show was aired from February 26, 2011 to March 2, 2011.
Synopsis
A soon-to-be-graduating girls high school class finds out their homeroom teacher is terminally ill. He writes each of them a letter, and they encounter various difficulties in their senior year. The students are all played by members of the band AKB48. With a special schedule, this show airs nightly over the broadcast period.
Cast
Main Characters
Supporting Characters
Professor Maeda's Previous Class
Music
Slideshow
Cast
External Links
Ad blocker interference detected!
Wikia is a free-to-use site that makes money from advertising. We have a modified experience for viewers using ad blockers

Wikia is not accessible if you've made further modifications. Remove the custom ad blocker rule(s) and the page will load as expected.