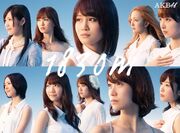 Sakura no Hanabira -Maeda Atsuko solo ver.- is a song from AKB48's second album, 1830m.
Sakura no Hanabiratachi was AKB48's first single, so Maeda Atsuko sings a solo version to signify her graduation. The title is also shortened from 'Hanabiratachi' to 'Hanabira' to signify that she's alone.
Information
Artist

Kana Title

桜の花びら ~前田敦子 solo ver.~

Romaji Title

Sakura no Hanabira

English Title

The Sakura Petal
Performing Members
Concert Performances
External Links
Ad blocker interference detected!
Wikia is a free-to-use site that makes money from advertising. We have a modified experience for viewers using ad blockers

Wikia is not accessible if you've made further modifications. Remove the custom ad blocker rule(s) and the page will load as expected.