Sashihara Rino Produce Dai Ikkai Yubi Matsuri ~Idol Rinji Sokai~
Comments

0
Share
Ad blocker interference detected!
Wikia is a free-to-use site that makes money from advertising. We have a modified experience for viewers using ad blockers

Wikia is not accessible if you've made further modifications. Remove the custom ad blocker rule(s) and the page will load as expected.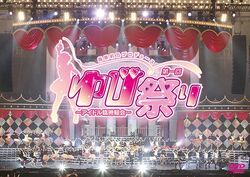 Sashihara Rino Produce Dai Ikkai Yubi Matsuri ~Idol Rinji Sokai~ (指原莉乃プロデュース 第一回ゆび祭り~アイドル臨時総会~) is a festival concert produced by Sashihara Rino, featuring many different idol groups, including Nogizaka46 and Watarirouka Hashiritai 7. The DVD and Blu-ray were released on December 26, 2012.
Tracklist
Disc 1
Opening Video
Houkago Getabako Rock n Roll MX - Shiritsu Ebisu Chuugaku
Guru Guru Curtain - Nogizaka46
Pock☆Star - Passpo☆
Shoujo Hikou - Passpo☆
Material Girl - Passpo☆
Shounen yo Uso wo Tsuke! - Watarirouka Hashiritai 7
Kanpeki Gu~no ne - Watarirouka Hashiritai 7
Overture - Momoiro Clover Z
Otome Sensou - Momoiro Clover Z
Ikuze! Kaitou Shoujo - Momoiro Clover Z
Rock you! - Tokyo Girls Style
Attack Hyper Beat POP - Tokyo Girls Style
Onnaji Kimochi - Tokyo Girls Style
Welcome to S G Show!! II - SUPER☆GiRLS
Joshi Royku←Paradise - SUPER☆GiRLS
EveryBody JUMP!! - SUPER☆GiRLS
Puripuri SUMMER Kiss - SUPER☆GiRLS
Disc 2
Hatsukoi Cider - Buono!
Rottara Rottara - Buono!
Renai♥Rider - Buono!
Yarakai Heart - Idoling!!!
One Up!!! - Idoling!!!
Ichigo Gyuunyuu - Idoling!!!
Hatsukoi Heels - Sashihara Rino
Ikuji Nashi Masquerade - Sashihara Rino
Soredemo Suki da yo - Sashihara Rino
Yeah! Meccha Holiday - Sashihara Rino, Haruna Ai
Making Of
Featured Artists
Shiritsu Ebisu Chuugaku
Passpo☆
Momoiro Clover Z
Tokyo Girls Style
SUPER☆GiRLS
Buono!
Idoling!!!
Haruna Ai