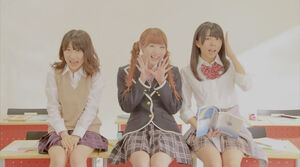 Seigi no Mikata Janai Hero is a coupling song from AKB48's 28th single UZA.
Seigi no Mikata Janai Hero is sung by the New Team B.
Information
Artist

Kana Title

正義の味方じゃないヒーロー

Romaji Title

Seigi no Mikata Janai HIIROO

English Title

Hero who isn't an ally of justice

Single
Performing Members
Team B: Ishida Anna, Ishida Haruka, Ichikawa Miori, Iwasa Misaki, Umeda Ayaka, Oba Mina, Oya Shizuka, Kashiwagi Yuki, Katayama Haruka, Kato Rena, Kojima Haruna, Kojima Natsuki, Komori Mika, Shimazaki Haruka, Takeuchi Miyu, Tanabe Miku, Fujie Reina, Nakamura Mariko, Natori Wakana, Nonaka Misato, Minegishi Minami, Yamauchi Suzuran, Watanabe Miyuki
AKB48 Request Hour
External Links
Ad blocker interference detected!
Wikia is a free-to-use site that makes money from advertising. We have a modified experience for viewers using ad blockers

Wikia is not accessible if you've made further modifications. Remove the custom ad blocker rule(s) and the page will load as expected.