Shekarashika!
Released:
November 25, 2015
Genre:
J-Pop
Format:
CD Single, CD+DVD
Label:
UNIVERSAL SIGMA
Producer:
Akimoto Yasushi
Theater

HKT48 Singles Chronology
Previous:
12 Byou
5th Single
(2015)
Next:
TBA
7th Single
(2016)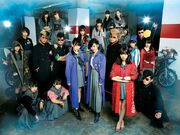 Shekarashika! (しぇからしか!  Shekarashika!?) is HKT48's 6th Single, which is a collaboration work with Kishidan. It's title song was used as the theme song for Majisuka Gakuen 0.
Ad blocker interference detected!
Wikia is a free-to-use site that makes money from advertising. We have a modified experience for viewers using ad blockers

Wikia is not accessible if you've made further modifications. Remove the custom ad blocker rule(s) and the page will load as expected.