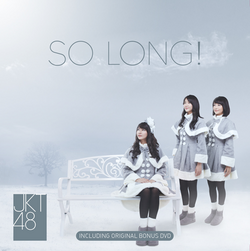 So Long! is the main song from JKT48's 16th Single So Long! by Senbatsu.
Information
Artist
Indonesian Title

-
Japanese Title

-
English Title

So Long!
Performing Members
Team J : Devi Kinal Putri, Jessica Veranda, Michelle Christo Kusnadi, Nabilah Ratna Ayu Azalia, Shania Junianatha , Melody Nurramdhani Laksani, Thalia Ivanka Elizabeth Frederik
Team KIII : Ayana Shahab, Beby Chaesara Anadila, Chikano Rina, Cindy Yuvia, Ratu Vienny Fitrilya, Shani Indira Natio
Team T : Adhisty Zara, Made Devi Ranita Ningtara, Nurhayati
Trivia
Music Video (Full Ver.)
Ad blocker interference detected!
Wikia is a free-to-use site that makes money from advertising. We have a modified experience for viewers using ad blockers

Wikia is not accessible if you've made further modifications. Remove the custom ad blocker rule(s) and the page will load as expected.