Takahashi Minami
高橋みなみ

Takahashi Minami, 2014
Information
Nickname
Takamina (

たかみな

?

)
Minami (

みなみ

?

)
Miichan (

みいちゃん

?

)
Former Stage Name
Harukaze Konami (

春風山波

?

) (no3b Rakugo Challenge)
Birthdate
April 8, 1991
Birthplace
Tokyo, Japan
Bloodtype
AB
Zodiac Sign
Aries
Height
148cm
B-W-H
74-56.5-81cm
Shoe Size
**cm
Professional Information
Genres
J-Pop
Occupation
Singer, Idol, Seiyuu, Actress
Years Active
2005-present
(9 years)
Agency
OgiPro
Group
AKB48
Team
AKB48 Team A, AKB48 Group Soukantou
Generation
1st Generation AKB48
Associated Acts
AKB48, SKE48, SDN48, NMB48, Nogizaka46, HKT48, JKT48, SNH48
Blog
Takahashi Minami (Team Ogi)
no3b Official Blog (Oricon)
no3b Official Blog (Ameba)
Google+
+高橋みなみ
Takahashi Minami is a Japanese idol singer. She is captain of AKB48's Team A, as well as the General Manager (soukantoku) of the 48Group, which includes all AKB48's Sister Groups. On December 8, 2014, she announced her graduation from AKB48, and will graduate on December 8, 2015.
Profile
Name: Takahashi Minami (高橋みなみ)
Nickname: Takamina (高みな)
Birthdate: April 8, 1991
Birthplace: Tokyo, Japan
Bloodtype: AB
Height: 148cm[1]
Bust: 74cm
Waist: 56.5cm
Hips: 81cm
Zodiac: Aries
Hobbies: Drawing, reading manga
Special Talents: Copying pictures
Favorite Seasons: Spring and Autumn
Favorite Color: Black, White, Pink
Favorite Food: Katsudon, Hamburger Steak
Favorite artist: Flumpool, Aqua Timez, w-inds, Nakamori Akina.
Favourite seasons: Spring and Autumn.
Favorite animals: Likes all animals, but likes cats the most.
Favorite manga: NANA. Currently, One Piece but likes Shounen Manga in general.
Favorite book: Uncle Tom
Favourite anime movie: Crayon Shin-chan: Calling the Storm; Battle of the Warring States.
Years in AKB48: 7 Years
Known Catchphrase
Mikake wa chouppiri yankii kokoro wa garasu no haato Takamina koto Takahashi Minami desu!
見かけはちょっぴりヤンキー心はガラスのハートたかみなこと高橋みなみです!
My appearance is slightly yankii, but my heart is a glass. Called Takamina, Takahashi Minami!
Senbatsu/Selection Events
Discography
Singles
Discography Participation
Units
Persona
3seconds
Christmas Present
Stage Units
A1 (PARTY ga Hajimaru yo)
Skirt, Hirari
Hoshi no Ondo
A2 (Aitakatta)
Nageki no Figure
Glass no I LOVE YOU
Senaka Kara Dakishimete
Rio no Kakumei
A3 (Dareka no Tame ni)
Bird
Seifuku ga Jama wo Suru
A4 (Tadaima Renaichuu)
H1 (Boku no Taiyou)
H2 (Yume wo Shinaseru Wake ni Ikanai)
A5 (Renai Kinshi Jourei)
A6 (Mokugekisha)
Team A Waiting Stage
Ame no Pianist
Kioku no Dilemma 

(New Unit)
Team Surprise 1st Stage
1994-nen no Raimei
Oteage Lullaby
Dessan
A5 (Renai Kinshi Jourei)
Concert Shuffle Units
AKB48 First Concert "Aitakatta ~Hashira wa Naize!~"
Classmate
Kinjirareta Futari
AKB48 Masaka, Kono Concert no Ongen wa Ryuushutsushinai yo ne?
Nenwasure Kanshasai Shuffle Sumaze, AKB! SKE mo Yoroshiku ne
MARIA
Anata to Christmas Eve
AKB104 Senbatsu Members Sokaku Matsuri
Blue rose
Mushi no Ballad
Bye Bye Bye
MARIA
Yokohama Arena 2010 'AKB48 Manseki Matsuri Kibou Sanpi Ryouran'
Surprise wa Arimasen
AKB48 Kouhaku Utagassen 2011
Gyomu Renraku. Tanomuzo, Katayama Bucho! in Saitama Super Arena
Junjou Shugi
Kagami no Naka no Jean D'Arc
Bird
AKB48 in TOKYO DOME ~1830m no Yume~
Seifuku Resistance
Mushi no Ballad
AKB48 Kouhaku Utagassen 2012
AKB48 Group Rinji Soukai "Shirokuro tsukeyou janai ka!"
AKB48 Super Festival at Nissan Stadium
AKB48 2013 Manatsu no Dome Tour ~Mada mada, Yaranakya Ikenai koto ga aru~
Fukuoka Dome
Sapporo Dome
Osaka Dome
Junai no Crescendo
Pioneer
Nagoya Dome
Tokyo Dome
Renai Kinshi Jourei
Pioneer
Glass no I LOVE YOU
AKB48 Kouhaku Utagassen 2013
Unit Matsuri 2014
AKB48 National Olympic Stadium Concert
AKB48 Group at Ajinomoto Stadium
Solo Songs
Itoshisa no Accel (Team A 6th Stage)
Kiseki wa Yoru (No Sleeves)
Dareka Oshiete (Kuchibiru Furezu...)
Still (Pedicure Days)
Futo Omou Koto (Kirigisu Jin)
Oteage Lullaby (Team Surprise 1st Stage)
Subgroups
Solo Songs
Works
Photobooks
[2008.08.07] B.L.T. U-17 summer (Tokyo News Tsushinsha)[4]
[2010.09.02] TAKAMINA
Musicals
[2009.10.30-2009.11.08] AKB48 Kagekidan 
Movies
TV
[2012.12.07 -] AKB Kousagi dōjō
[2012.10.21 -] Snackshop Eden
[2012.06.29 -] Bimyo~na Tobira AKB48 no Gachichare
[2011.05 -] Shin Dōmoto Kyōdai
[2010.07.13 -] AKB to ××!
[2010.07.08 -] Mujack!
[2008.10.01 -] AKBINGO!
[2011.09.29 - 2012.02.23] AKB Conte (Bimyo~)
[2010.05.30 - 2012.03.08] Naruhodo High School
[2010.04.02 - 2011.03.25] PON!
[2009.10.05 - 2010.03.22] Omoikkiri PON!
[2009.07.10 - 2012.11.30] Shukan AKB
[2009.04.03 - 2009.10.02] Omoikkiri DON! 1155
[2008.07.13 - 2011.11.06] AKB48 Nemōsuterebi (Seasons 1 to 4)
[2008.04.07 - 2008.09.29] AKB 0ji 59fun
[2008.01.24 - 2008.03.27] AKB 1ji 59fun
Dramas
[2013.02.11] So long! (AKB48 3-story Drama) (as Koga Akane)
[2011.12.13] HUNTER ~Sono Onnatachi, Shoukin Kasegi~ (as Saori)
[2011.04.15] Majisuka Gakuen 2 (as Minami and as Lieutenant/Female Investigator)
[2011] Sakura Kara no Tegami~AKB48 Sorezore no Sotsugyou Monogatari~ (as Takahashi Minami/Tanizaki Minami)
[2010] Honto ni Atta Kowai Hanashi Raincoat no Onna (as Takahashi Minami)
[2010.01.08 - 2010.03.26] Majisuka Gakuen (as Minami)
[2008.10.10 - 2008.12.26] Mendol (as Kawachi Nami/Kai)
[2008.01.09 - 2008.03.19] Saito-san (as Shinmi Kei)
[2007.10.25] Joshi Deka! - Female Detective (as Game Center Informant)
[2006.01.03 - 2006.03.23] Desu yo nē (episodes 6, 10 and 11)
Manga
Anime
Video Games
CM
Trivia
Has two cats (Ten and Hime) and had a dog named Ryu. Although she owns two, she has an allergy to cats.
Wants to visit Egypt.
Likes the manga NANA.
Would like to be a voice actor.
Likes indoors better than outdoors.
Sensitive to both warmth and cold.
Claims to be quite stubborn, and bad at giving up.
Feels happy at times when she can just relax, which she does by closing her eyes.
Her ideal female image is a person that looks perfect, but isn't.
She has three conditions that she looks for in a guy. Someone who is taller than her, funny and someone who manages money well. Also, she likes guys who wear suits, and thinks it is dreamy when they're fixing their collars.
Eats an apple every day to stay healthy.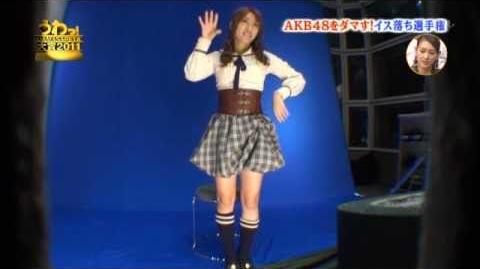 She is a constant target for Dokkiris (hidden camera pranks that are popular on Japanese variety shows).
Along with Mayuyu and Tomochin, her favorite Dragon Ball character is Son Goku.
When she was given the challenge for to perform Rakugo in a no3b's Kimi Shika Promotional Event, she was given the name "Harukaze Konami" as her Rakugo stage name.
As revealed to her in AKBINGO! (July 7, 2010), the only reason Takamina passed the initial written auditions was because of her height (148.5cm) and her birthdate (4/8/1991) both having the numbers 4 and 8.

During a segment in AKBINGO!, it was revealed that since their last check-up, she has been troubled by the result that she lost 5mm (in height, from 148.5cm to 148cm). In addition, during the EX-Episode for Majisuka Gakuen 2, she learned that Ichikawa Miori became taller than her [6].
External Links
References
Galleries
Slideshow
Honorary Titles
Honorary titles

Preceded by
First

General Manager of AKB48 Group
November 1, 2012 - Present

Succeeded by
Incumbent

Preceded by
First

Captain of AKB48
November 1, 2012 - Present

Succeeded by
Incumbent

Preceded by
First

Captain of Team A
March 2010 - October 29, 2012

Succeeded by
Shinoda Mariko

Preceded by
Yokoyama Yui

Captain of Team A
March 2010 - Present

Succeeded by
Incumbent

Preceded by
First

Center of Team A
(With Maeda Atsuko)
2005 - August 27, 2012

Succeeded by
Takahashi Minami and Watanabe Mayu

Preceded by
Takahashi Minami and Maeda Atsuko

Center of Team A
(With Watanabe Mayu)
November 1, 2012 - Feburary 24, 2014

Succeeded by
Incumbent