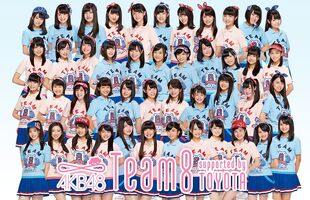 AKB48's Team 8 (チーム8) is a special Team that was announced during AKB48 Request Hour Setlist Best 200 2014. Their team color is Dark Blue. The team will comprise of newly auditioned members, one from each of the 47 prefectures of Japan. The concept of Team 8 is "Idols who go meet you" and sponsored by Toyota. they are often considered an unofficial sister group. Each member of Team 8 comes from a different prefecture of Japan. The members participate in live performances and handshake events and special performances in various regions of Japan and internationally. They are currently on a tour around the country (Team 8 National Tour 〜47 no Suteki na Machi e〜). As of June 2017, Team 8 visited a total of 38 prefectures and travelled 31,693km.
Members
Hokkaido · Northeast Area
Graduated
Stages
Team 8 Songs on AKB48 Albums & Singles
Gallery
External Links
Ad blocker interference detected!
Wikia is a free-to-use site that makes money from advertising. We have a modified experience for viewers using ad blockers

Wikia is not accessible if you've made further modifications. Remove the custom ad blocker rule(s) and the page will load as expected.