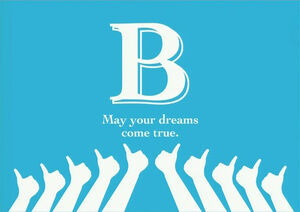 Team B (チームB) is the third team that forms idol group AKB48. Their team color is Blue.
Members
Stages
Information
AKB48 held its third audition in 2006, and the 3rd generation of members who were meant to be Team B made their first appearance in the theater on December 8, 2006. Around the same time, it was announced that Urano Kazumi, Hirajima Natsumi, Masuyama Kayano and Watanabe Shiho would be transferred to Team B to act as a teacher figure for the new members. After Orii Ayumi's graduation, however, Masuyama Kayano remained in Team A.
Team B debuted on April 8, 2008, and performed two revival stages throughout 2007. After Team B's first stage, Watanabe Shiho graduated from AKB48 and was replaced by Saeki Mika, the first kenkyuusei to be promoted to a team. In February, 2008, they began performing their first original stage. In August, 2008, Kikuchi Ayaka was fired due to a scandal. She later auditioned for AKB48's 7th Generation, and was allowed to reenter the group.
In August 2009, Saeki Mika graduated and the announcement was made that the teams would be shuffled. Kitahara Rie, Sato Amina and Miyazaki Miho were transferred from Team A, Oku Manami, Kasai Tomomi, Kobayashi Kana, Sato Natsuki, Chikano Rina and Masuda Yuka were transferred from Team K, and Ishida Haruka, Komori Mika, Sato Sumire and Suzuki Shihori were promoted from Kenkyuusei. Suzuki Shihori withdrew from AKB48 shortly after the announcement, and Suzuki Mariya was promoted to Team B instead of Team A.
Team B Songs on AKB48 Albums & Singles
Ad blocker interference detected!
Wikia is a free-to-use site that makes money from advertising. We have a modified experience for viewers using ad blockers

Wikia is not accessible if you've made further modifications. Remove the custom ad blocker rule(s) and the page will load as expected.