Team J (チームJ). Their team color is Dark Red. They currently have 20 members, though 1 has announced graduation.
Members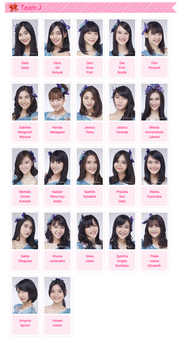 Graduated
Transferred
Stages
1st Stage 「恋愛禁止条例」 (JKT48 Team J 1st Stage "Renai Kinshi Jourei" / "Aturan Anti Cinta") (2012.12.26 - 2013.12.28)
2nd Stage 「誰かのために」 (JKT48 Team J 2nd Stage "Dareka no Tame ni" / "Demi Seseorang") (2014.01.18 - 2015.04.26)
3rd Stage 「シアターの女神」 (JKT48 Team J 3rd Stage "Theater no Megami" / "Dewi Theater") (2015.05.17 - 2016.11.27 )
Special Stage 「Team J B•E•L•I•E•V•E Show」 (JKT48 Team J Special Stage "B•E•L•I•E•V•E") (2016.12.09 -)
Surprise Stage 「僕の太陽 Surprise Stage」 (JKT48 Team J Surprise Stage "Boku No Taiyou" / "Matahari Milikku") (2015.02.13 - 2015.03.13)
4th Stage 「ただいま 恋愛中」(JKT48 Team J 4th Stage "Tadaima Renaichuu" / "Sekarang Sedang Jatuh Cinta") (2017.05.19 -)
Events
[2015.04.18] JKT48 Team J Event/Concert "Mulai Sekarang Sungguh-Sungguh"
[2015.06.13] Team J Concert "Idol no Ouja"
Ad blocker interference detected!
Wikia is a free-to-use site that makes money from advertising. We have a modified experience for viewers using ad blockers

Wikia is not accessible if you've made further modifications. Remove the custom ad blocker rule(s) and the page will load as expected.