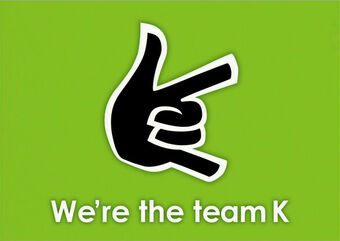 Team K (チームK) is the second team formed that makes up the idol group AKB48. Their team color is Green.
Members
Stages
Information
In December 2005, an audition was held for the second generation of AKB48, Team K. 18 girls were chosen and in April 2006 they started preforming at the AKB48 theater. Their first stage, PARTY ga Hajimaru yo, was recycled from Team A. On June 17th 2006, Uemura Ayako graduated, making her the first Team K member to graduate from AKB48.
In August 2009, it was announced that the AKB48 teams would be shuffled in October 2009. The 'new' Team K that was announced included Itano Tomomi, Fujie Reina and Minegishi Minami from Team A, Tanabe Miku, Nakatsuka Tomomi, Nito Moeno and Yonezawa Rumi from Team B, as well as the promotion from AKB48 Kenkyuusei of Uchida Mayumi, Kikuchi Ayaka, Nonaka Misato and Matsui Sakiko.
In June 2010, Ono Erena announced that she would be graduating from AKB48 to focus on her acting at the end of the summer, and shortly after her graduation in September 2010, Yokoyama Yui was promoted to Team K.
In May 10, 2015 Nomura Nao and Kubo Satone Drafted into Team K
Team K Songs on AKB48 Albums & Singles
Ad blocker interference detected!
Wikia is a free-to-use site that makes money from advertising. We have a modified experience for viewers using ad blockers

Wikia is not accessible if you've made further modifications. Remove the custom ad blocker rule(s) and the page will load as expected.