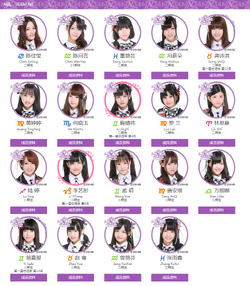 Team NII (チームNII, 现在Team N队) is the second team formed for theater-based idol group SNH48. The team currently has 19 members.
Members
Transferred
Graduated
Stages
1st Stage (剧场女神 / Theater no Megami) [2013.11.23 - 2013.12.15]
2nd Stage (逆流而上 / Saka Agari) [2014.04.25 - 2014.10.04]
3rd Stage (前所未有 / Mokugekisha) [2014.10.11 - ]
Gallery
Ad blocker interference detected!
Wikia is a free-to-use site that makes money from advertising. We have a modified experience for viewers using ad blockers

Wikia is not accessible if you've made further modifications. Remove the custom ad blocker rule(s) and the page will load as expected.