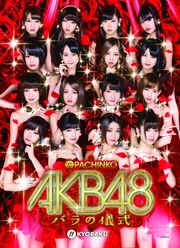 Team Surprise's 2nd Stage, created for a Pachinko campaign featuring members from AKB48, SKE48, NMB48 and HKT48.
General Information
Stage Name

Bara no Gishiki (バラの儀式)
Setlist
M01. Mirai ga Me ni Shimiru (未来が目にしみる)
M02. Hungry Lion (ハングリーライオン) (Oshima Yuko, Kojima Haruna, Shinoda Mariko, Takajo Aki)
M03. Yume wo Miru nara (夢を見るなら) (Itano Tomomi, Takahashi Minami)
M04. Hatsukoi no Kagi (初恋の鍵) (Watanabe Mayu, Shimazaki Haruka)
M05. Itoshisa wo Marumete (愛しさを丸めて) (Kashiwagi Yuki, Kojima Haruna, Yokoyama Yui)
M06. Youchien no Sensei (幼稚園の先生) (Watanabe Mayu, Sashihara Rino, Watanabe Miyuki)
M07. Hell or Heaven (Takahashi Minami, Matsui Rena, Yamamoto Sayaka)
M08. Saigo ni Ice Milk wo Nonda no wa Itsudarou? (最後にアイスミルクを飲んだのはいつだろう?) (Shinoda Mariko, Minegishi Minami, Takajo Aki, Kitahara Rie)
M09. Tokimeki ANTIQUE (ときめきアンティーク) (Shimazaki Haruka, Sashihara Rino, Watanabe Miyuki)
M10. Dare ga futari wo deawaseta no ka? (誰が2人を出会わせたのか?) (Yamamoto Sayaka, Itano Tomomi, Yokoyama Yui)
M11. Shitsuren doumei (失恋同盟)
M12. Bara no gishiki (バラの儀式)

Members
Ad blocker interference detected!
Wikia is a free-to-use site that makes money from advertising. We have a modified experience for viewers using ad blockers

Wikia is not accessible if you've made further modifications. Remove the custom ad blocker rule(s) and the page will load as expected.