UZA
Released:
October 31, 2012
Genre:
J-Pop
Format:
CD Single, CD+DVD
Label:
You, Be Cool!/KING RECORDS
Producer:
Akimoto Yasushi
Theater Edition

AKB48 Singles Chronology
Previous:
Gingham Check
27th Single
(2012)
Next:
Eien Pressure
29th Single
(2012)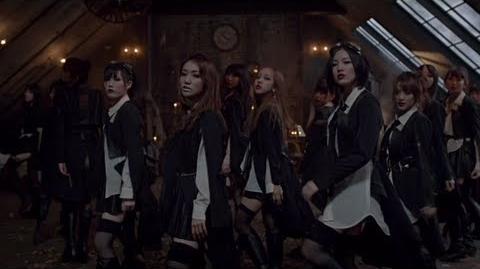 "UZA" is the 28th major single (30th overall) released by AKB48. It was released in seven versions: three regular CD+DVD editions (types A, K, and B), three limited CD+DVD editions (types A, K, and B), and a limited CD-only theater edition. The regular editions came with a national handshake event ticket and came with one of thirty-two photos, and the theater edition came with a large handshake event ticket and random photo.
Tracklist
Selected Members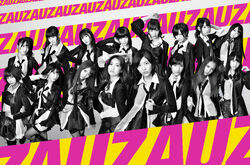 Senbatsu (選抜) (16 Members) (Oshima Yuko and Matsui Jurina Centers)

Undergirls (アンダーガールズ) (16 Members)

Team A (チームA) (22 Members)

Team A: Iriyama Anna, Iwata Karen, Izuta Rina, Kawaei Rina, Kikuchi Ayaka, Kobayashi Marina, Kotani Riho, Matsui Sakiko, Morikawa Ayaka, Nakamata Shiori, Nakatsuka Tomomi, Oshima Ryoka, Sato Sumire, Shinoda Mariko, Takahashi Juri, Takahashi Minami, Tano Yuka, Watanabe Mayu, Yokoyama Yui, Kasai Tomomi, Nito Moeno, Sato Natsuki
Team K (チームK) (22 Members)

Team K: Abe Maria, Akimoto Sayaka, Chikano Rina, Fujita Nana, Kitahara Rie, Kuramochi Asuka, Kobayashi Kana, Matsubara Natsumi, Miyazaki Miho, Maeda Ami, Muto Tomu, Matsui Jurina, Nagao Mariya, Nakata Chisato, Oshima Yuko, Sato Amina, Suzuki Shihori, Shimada Haruka, Uchida Mayumi, Nakaya Sayaka, Itano Tomomi, Masuda Yuka
Team B (チームB) (23 Members)

Team B: Ishida Anna, Ishida Haruka, Ichikawa Miori, Iwasa Misaki, Umeda Ayaka, Oba Mina, Oya Shizuka, Kashiwagi Yuki,Katayama Haruka, Kato Rena, Kojima Natsuki, Kojima Haruna, Komori Mika, Shimazaki Haruka, Takeuchi Miyu, Tanabe Miku, Nakamura Mariko, Natori Wakana, Nonaka Misato, Fujie Reina, Yamauchi Suzuran, Watanabe Miyuki, Minegishi Minami
AKB48 Kenkyuusei (AKB48研究生) (19 Members)

TV Performances
[2012.09.24] HEY! HEY! HEY! Music Champ
[2012.10.26] Music Station
[2012.10.28] Music Japan
[2012.11.02] Happy Music
[2012.11.09] Music Station
[2012.12.25] Kayou Kyoku
[2012.12.31] 63rd Kohaku Uta Gassen
[2013.05.27] SMAPXSMAP
Song Information
Lyrics

Music

Other Information

Arrangement: Inoue Yoshimasa
Oricon Chart Positions
Mon
Tue
Wed
Thu
Fri
Sat
Sun
Week Rank
Sales
-
#1
884,602
#1
92,720
#1
44,336
#1
25,066
#1
24,090
#1
18,236
#1
1,128,696
#1
9,651
#5
#4
#3
4,166
#2
4,070
#2
5,366
#1
5,240
#3
45,177
#2
3,372
#11
#9
#6
#7
#5
#7
#7
18,008
#3
1,485
#22
#22
#12
#11
#12
#14
#15
11,009
#7
#26
#19
#13
#12
#16
#14
#16
7,308
#6
#26
#18
#20
#20
#18
#15
#20
4,881
#9
#24
#22
#22
#19
#13
#15
#20
4,241
#11
#20
#25
#20
#18
#13
#13
#20
3,855
#9
-
-
-
-
-
x
x,xxx
-
-
-
-
-
-
-
x
x,xxx
| Year | Month | Month Rank | Sales |
| --- | --- | --- | --- |
| 2012 | October | 1 | 1,128,696 |
| 2012 | November | 9 | 81,502 |
| 2012 | December | 28 | 17,805 |
Total Reported Sales: 1,262,707*
Total Sales of 2012: 1,215,079 (#4 single of the year)
Total Sales of 2013: 47,628*
Total Charting Weeks: 27
Trivia
Slideshow
UZA